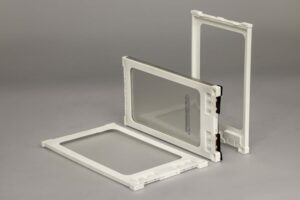 CRP Technology, a provider of composite materials and 3D printing technologies for UAVs (unmanned aerial vehicles) and other aerospace applications, has announced the launch of Windform FR2, a new flame-retardant material from the Windform TOP-LINE family of composite materials for additive manufacturing.
The polyamide-based glass fiber reinforced material features a smoother surface finish compared to its predecessor, Windform FR1, allowing for excellent detail resolution. It also has excellent wear resistance and good temperature resistance, and is not electrically conductive.
Windform FR2 has successfully passed FAR 25.853 12-second vertical and 15-second horizontal flammability tests as well as the 45° Bunsen burner test and smoke density test. Due to its flame-retardant and insulating properties, Windform FR2 is suitable for unmanned aircraft and aerospace applications, as well as other unmanned vehicle components such as casings of electrical and electronic components, housings and enclosure assemblies.
Franco Cevolini, VP and CTO at CRP Technology, commented: "CRP Technology constantly produces technological breakthroughs and highest level solutions. Only a few months ago we launched the Windform FR1 flame retardant carbon fiber reinforced material. Now we have introduced Windform FR2, a flame retardant material which is glass fiber reinforced."
"Flame retardants are not new to the 3D printing market, but flame retardant materials which were also reinforced and presenting significant mechanical properties were lacking. We at CRP Technology were the first to fill this void; we have created not only the first material of its kind, but also a second. In order to invent these materials, we must anticipate, intercept and satisfy the requests of the most demanding and innovative industrial sectors."