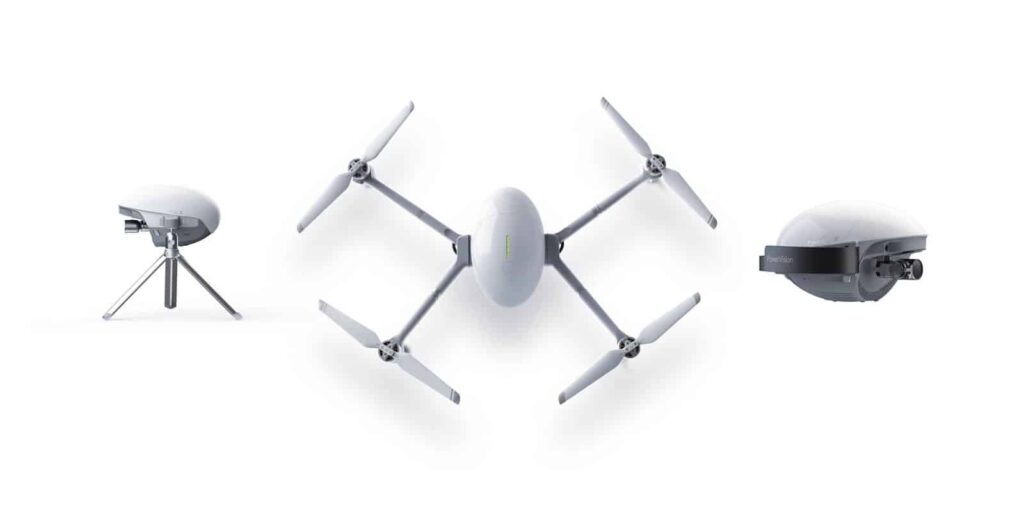 PowerVision Robot Corporation, a developer of artificial intelligence and drone technology, has announced the launch of the PowerEgg X, an autonomous camera drone that can also be used as a standalone handheld camera. The drone's camera is mounted on a three-axis gimbal and is capable of 4k HD video at 60 fps. The PowerEgg X's drone mode has a flight endurance of up to 30 minutes and features automatic obstacle avoidance, precise landing, and other practical functions.
The PowerEgg X utilises proprietary AI algorithms to provide deep learning and facial recognition features, and can keep the subject in the middle of the frame even if they are running, playing sports or performing other fast movements, with a tracking field of view of up to 170°. The drone's spotlight feature automatically remembers a subject, allowing the PowerEgg X to track it, even if the subject moves in and out of the field of view. Photo and video recording functionality can be triggered by making gestures that are recognised with the help of a deep-learning gesture database.
The IPX6-rated PowerEgg X is capable of flying in heavy rain and winds of up to 29-38 knots. With the help of a landing float accessory, it can take off from and land on water, making it suitable for situations such as aquatic events and at-sea rescue operations.
PowerVision claims that the PowerEgg X is the world's first consumer drone that can pick up sound. Proprietary SyncVoice technology allows users to narrate in real-time by using their mobile phone's microphone or a wireless earphone. The narration is then automatically synchronized with pictures. Short videos suitable for social media sharing can be created via a companion app.
Wally Zheng, Founder and CEO of PowerVision, commented: "Three years in development, PowerEgg X pulls together the technology consumers are seeking and puts it in a small, elegant egg shape. With smart-image recognition tracking, image mechanical stabilization, and simple video-editing tools, it is easy for anyone to shoot material as if they were a professional-grade videographer. By creating a multi-purpose device, PowerVision has reduced the user's total purchase cost, storage requirement, increased ease-of-use, and giving the user unprecedented convenience."
Find manufacturers of cameras for unmanned systems applications >>