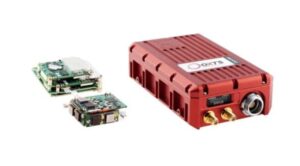 OxTS, a developer of inertial navigation systems for drones and robotics, has introduced a series of updates to the company's xNAV GNSS-aided inertial navigation systems and xOEM GNSS/INSS boardsets.
The xNAV550 dual-antenna GNSS/INS module has been further reduced in size and weight, now with a 43mm height and weighing in at 395g. These new specifications now make the system even more suitable for SWaP-conscious UAV surveying applications that require centimetre-level positioning and accurate roll, pitch and heading data. The xOEM550 dual-antenna GNSS/INS boardset for unmanned systems OEMs has also been reduced in height to only 30.1mm, and in weight to 150g.
The xNAV500, xOEM500, xNAV550 and xOEM550 have all been upgraded with a lower power consumption, with the xNAV500/xOEM500 down to 6.5W and the xNAV550/xOEM550 to 9W. All products also feature completely field-upgradable firmware and an increased onboard storage capacity of 32GB, and have been redesigned with a new ARM CPU that currently only uses about 15% of its processing capability during standard use of the INS. This future-proofing redesign means that additional features can be added in the future without any need for additional hardware.
Additional functionality for the xNAV and xOEM products include:
Ethernet logging of UDP data streams from external sensors such as LiDAR (supporting up to four simultaneous stream logs)
Ethernet output of NMEA data (for external sensor synchronisation)
External PPS compatibility
Three serial ports and RS485 support for xOEM products