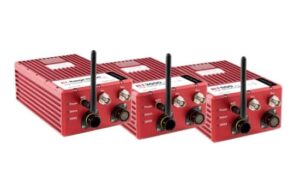 Oxford Technical Solutions (OxTS), a developer of GNSS-aided inertial navigation systems (INS) for unmanned vehicles and robotics, has announced the launch of a new range of real-time GNSS/INS products, featuring upgraded hardware and a new NovAtel OEM7720 receiver. The new solutions also feature new connectivity options and features that simplify configuration and data extraction.
The integration of the new RT3000 v3 with the RT-Range Hunter processing engine has created an all-in-one solution for testing of advanced driver-assistance systems (ADAS), with less hardware, reduced network complexity and simplified troubleshooting.
Other new features include:
Onboard Wi-Fi: allows RT units to be installed in hard-to-reach places without the need for additional cabling. A built-in router also allows devices to operate as a Wi-Fi hotspot, enabling remote monitoring and communications with any connected devices such as driving robots.
CAN-FD port: ensures future-proofed compatibility with other developer systems, providing improvements to data speed, volume and options. The total number of Ethernet ports has also been increased to three.
NTRIP Client: easily configure and connect to devices providing NTRIP RTK differential corrections during open-road autonomous vehicle testing, or when the use of an RTK base station is impractical or unavailable.
10-50 V power input: enables compatibility with the growing number of vehicles based around a 48V power supply.
The new RT products have retained the same mounting points as the previous generation, ensuring backwards compatibility with existing OxTS mounting solutions and accessories such as the RT-XLAN, RT-Base S, RT-Strut and RT-Backpack. They also continue to be IP65-rated against water or dust ingress, allowing external mounting.