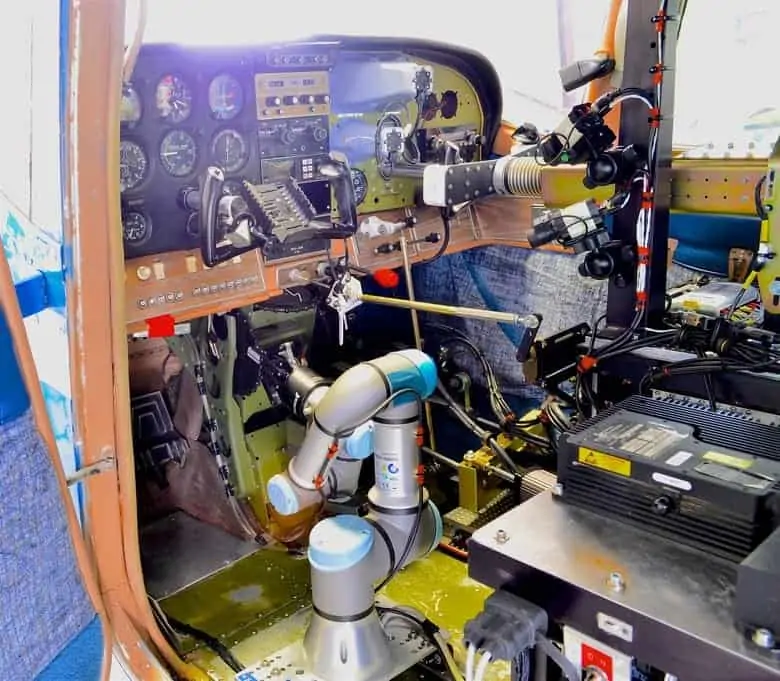 The Air Force Research Laboratory (AFRL), together with DZYNE Technologies, has recently completed a successful two-hour test flight of 'ROBOpilot', a revolutionary Robotic Pilot Unmanned Conversion Program. The flight was conducted at Dugway Proving Ground in Utah.
Dr. Alok Das, Senior Scientist with AFRL's Center for Rapid Innovation, described the technology:
"Imagine being able to rapidly and affordably convert a general aviation aircraft, like a Cessna or Piper, into an unmanned aerial vehicle, having it fly a mission autonomously, and then returning it back to its original manned configuration."
The system is installed by replacing the pilot's seat with the equipment necessary for autonomous flight, but the aircraft isn't permanently altered. The ROBOpilot flies in the same way as a pilot, interacting with standard controls such as the yoke, throttle and brakes. The ROBOpilot's computer reads dashboard indicators and utilizes existing technology, such as GPS and Inertial Measurement Unit sensors, to achieve accurate positioning.
The complete system comprises a robotic arm, actuators, electronics, cameras, power systems and an onboard computer capable of making the decisions to maintain optimal flight.
This first live flight in Utah follows previous simulated flights within a RedBird FMX simulator, where the system handled manoeuvres such as take-off, mission navigation and landings.
Given the investment required to develop new unmanned aerial systems, the team believe that this type of autonomous conversion represents a cost-effective option for future UAS: it is simple to install and uses existing technology to convert standard aircraft, without the need for permanent modifications.