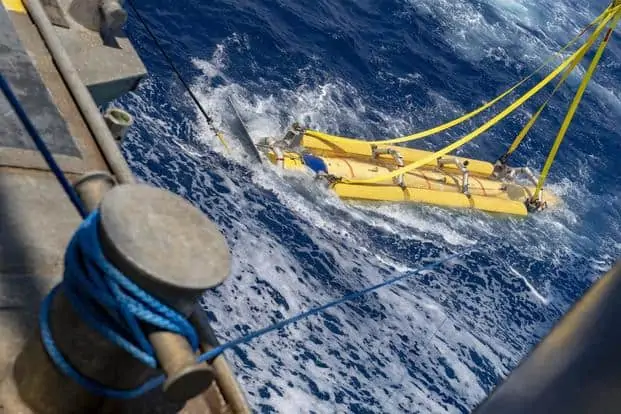 The U.S. Naval Sea Systems Command has announced that the Knifefish Surface Mine Countermeasure Unmanned Undersea Vehicle (UUV) Program has been granted Milestone C approval, thus clearing the way for low-rate initial production (LRIP) of the system. The Navy is expected to award the production contract to General Dynamics Mission Systems, the prime contractor on the Knifefish project.
The Knifefish system has been designed to be deployed from shore or from littoral combat ships (LCS) and vessels of opportunity in order to detect mines in crowded environments. Use of unmanned underwater vehicles will reduce risk to Navy personnel and equipment.
The system consists of two UUVs, with associated support systems and equipment. It uses low-frequency broadband sonar and automated target recognition software to detect and classify mines, while the host ship stays outside the minefield.
Knifefish was designed with a common open systems architecture, allowing for superior flexibility and rapid reconfiguration according to changing mission requirements. Further planned upgrades will update system sensors and the target recognition software in order to evolve along with modern mine threats.
Formal Developmental Testing and an Operational Assessment of the Knifefish were recently conducted in multiple locations off the coasts of Massachusetts and Florida. UUVs were deployed from a support vessel of opportunity in order to provide a characterization of the performance of the entire Knifefish system, including the launch and recovery subsystem.
The tests involved operational minehunting missions against a deployed, simulated target field. Operators undertook mission planning, launch and recovery of the system, monitoring of sorties and data processing.
The decision to move to full production will be made in 2022 following further testing. The Navy plans to purchase 30 Knifefish systems – 24 in support of LCS Mine Countermeasure Mission Packages and an additional six systems for deployment from vessels of opportunity.