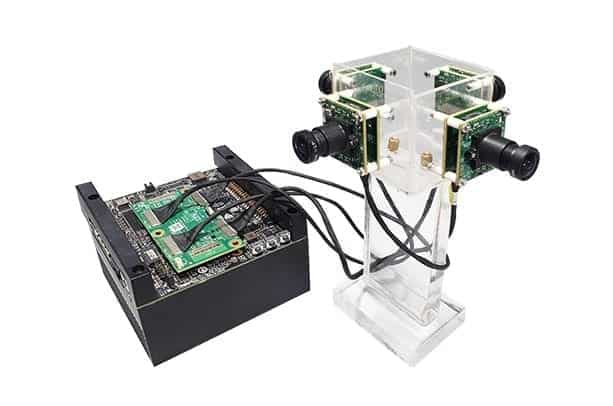 e-con Systems, a developer of embedded camera solutions and NVIDIA Preferred Partner, has announced the launch of the SurveilsQUAD synchronized multi-camera System for NVIDIA's Jetson AGX Xavier and Jetson TX2 developer kits. NVIDIA's Jetson kits facilitate the development of AI applications for autonomous robotic systems, drones and other unmanned vehicles.
SurveilsQUAD is a multiple camera solution that consists of four 2MP camera boards and a base board to interface with the NVIDIA Jetson AGX Xavier Developer Kit. Each camera is based on e-con's SONY Starvis IMX290 color CMOS image sensor. The cameras use NVIDIA's on-board Jetson Xavier Image Signal Processor (ISP) to perform all the Auto functions (Auto White Balance, Auto Exposure control). S-mount (M12) lens holders allow customers to choose lenses according to particular requirements.
With NVIDIA Jetson AGX Xavier and NVIDIA Jetson TX2 kit, users can easily create and deploy end-to-end AI and deep learning applications. The advanced software development kits based on neural networks provide enormous opportunities for applications such as smart surveillance, intruder detection, object tracking and more.
"e-con's latest SurveilsQUAD camera serves as an ideal platform for advanced AI-powered surveillance applications," said Ashok Babu, President of e-con Systems Inc. "Customers can leverage NVIDIA's AI stack to build AI-powered smart surveillance products based on our SurveilsQUAD camera."