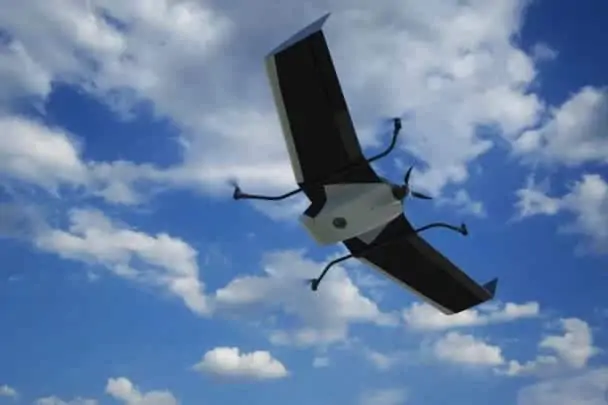 FlyTech UAV has announced that it has upgraded its flagship BIRDIE fixed-wing UAS (unmanned aerial system) with VTOL (vertical takeoff and landing) capabilities. The BIRDIE is a complete mapping solution consisting of the fixed-wing platform, dedicated flight controller, PPK, full-frame camera and GSM connectivity for unlimited flight range.
Find suppliers of Hybrid Fixed-Wing VTOL UAVs >
The VTOL capability is delivered via extension modules that can be attached and detached at any time, giving the user flexibility of use. The use of the VTOL extension module is recommended when fixed-wing UAVs might encounter issues due to hard surfaces or lack of proper takeoff and landing space. It takes a few seconds to attach the extension modules between the body and wings of the UAV. The dedicated flight controller adjusts the flight mode automatically.
The UAV takes off vertically and fully autonomously, then converts to horizontal flight, follows the mission pattern and lands vertically wherever the user requires. The VTOL module can be used without any loss of data quality – for both fixed-wing and VTOL flight, mapping accuracy up to 3 cm and resolution up to 1 cm/px can be achieved.
With this new upgrade, the BIRDIE UAS can now be used in a wide range of demanding environments, such as thick forests and on mountainous and rocky terrain. The aircraft can be upgrade to VTOL at any time after purchase.