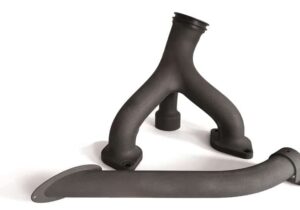 CRP Technology, a provider of composite materials and 3D printing technologies for UAVs (unmanned aerial vehicles) and other aerospace applications, has announced the launch of Windform FR1, a new flame-retardant material from the Windform TOP-LINE family of composite materials for additive manufacturing.
Windform FR1 is the first Flame Retardant (UL 94 V-0 rated) material for additive manufacturing that is carbon fiber reinforced.
The material has successfully passed the FAR 25.853 (FAA Flammability Requirements) 12-second vertical and 15-second horizontal flammability tests and 45° Bunsen burner test, making it suitable for manned and unmanned aircraft and other aerospace applications.
Franco Cevolini, VP and CTO at CRP Technology, commented: "I'm very proud to launch a new revolutionary composite material from the Windform TOP-LINE family of materials for Laser Sintering. Our aim is to constantly produce technological breakthroughs. With Windform FR1 we can steer you toward the proper solution for your projects."
Windform FR1 is a halogen free polyamide-based material that combines superior mechanical properties with excellent stiffness and lightweight. It is also ideal for high feature detail applications requiring FAR 25.853 fire retardant compliancy, and the manufacturing of components with detailed surface resolution.