Applanix, a designer of inertial-aided GNSS technology for UAVs, has released an article discussing the use and importance of UAVs in precision agriculture applications. Read the article below to learn more.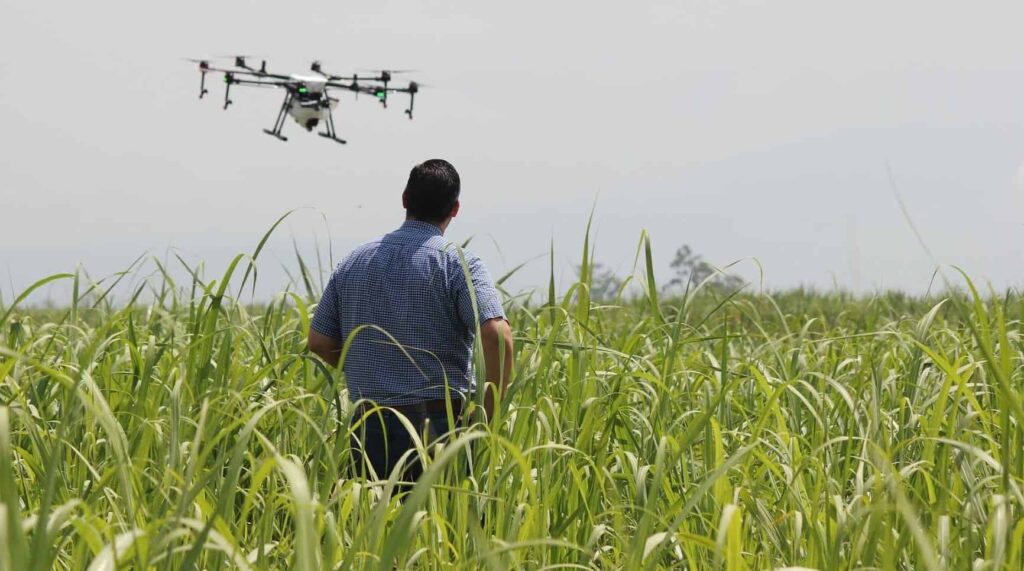 Farming technology with UAVs has never been more advanced, allowing farmers to precisely analyze and ensure the health and projected growth of their crops and livestock.
Unmanned aerial vehicles (UAVs) are now often seen whipping through the air above fields of cotton, wheat, sorghum, and other crops. They have rapidly become a common and much discussed tool for farmers in their constant quest to increase output and decrease expensive inputs of water, fertilizers, and pesticides. In a recent survey of them, 75% of respondents said that they are using UAVs, or considering their use, and more than 80% of respondents who use UAVs reported doing so once or more a week.
Key uses of UAVs on farms, so far, include monitoring crop growth and health, analyzing fields, assessing the health of livestock, and pinpointing areas in need of extra attention, such as nitrogen sidedressing or fertigation. They may also indicate patterns of damage, from weather or a mechanical application, that cannot be seen from the ground. A 15-minute UAV flight over some fields can accomplish as much as three or four hours of walking through them.
UAVs can also provide an objective documentation of temporal changes within and between growing seasons for long-term observations, such as how a crop responds to a hail damage, the effects of cover crops on soil and cash crops, and the spatial progression of soilborne disease or herbicide-resistant weeds. Farmers also use UAVs at the end of the season to create yield maps.
A UAV can typically survey up to 1,500 acres a day. To map entire fields, images are automatically triggered along a preplanned flight path, geotagged, and later stitched together by commercial software on a local computer or through cloud-based services.
Multispectral cameras on UAVs collect the bands used to generate the most common plant stress metric, the normalized difference vegetation index (NDVI). Agronomists can use this data to determine the photosynthetic activity of large acreages of cropland, allowing farmers to determine such important characteristics of their fields as seed emergence rates and areas where pest or disease pressure might be occurring. Hand-held NDVI meters are used to ground-truth the NDVI values collected using UAVs.
Thermal imaging cameras on UAVs are used to gauge the effectiveness of irrigation systems, particularly in vineyards, high-density orchard systems, and hops yards. They have also been tested to develop methods to identify feverish animals before they show symptoms of illness, such as eating less feed or infecting other animals.
UAVs vs. Satellite and Manned Aircraft
Soil properties (such as moisture), topography, and plant health can have significant spatial variation even within the same field. Therefore, precision agriculture, which optimizes inputs to match these variations, requires sub-inch resolution to, say, identify dry spots or distinguish weeds from cotton plants. Such resolution cannot be achieved with aerial imagery, let alone satellite imagery, the two types of remote sensing data that farmers have been using for decades, but can be easily achieved by UAVs, which can fly as low to the ground as needed. The ground pixel size of UAV imagery is typically 3 in. x 3 in. or smaller, compared to 3 ft. x 3 ft. for imagery from manned aircraft and 30 ft. x 30 ft. for satellite imagery.
Another advantage of UAVs is that they are so cheap to purchase, maintain, and operate that large farms can afford to deploy them as needed, either regularly throughout the growing season or intensively at critical times. Growers can easily maneuver rotary-wing drones to hover for close examination over areas of interest—such as irrigation issues, crop stresses, or fence conditions—enabling them to spot trouble early and deal with it before it spreads.
In addition to data collection, UAVs also enable growers to spray their crops precisely and at will, which is critical for fighting herbicide-resistant weeds. Unlike heavy machinery, which cannot go into a field immediately after a heavy rain, UAVs have no impact on the ground. While UAVs can only carry tiny amounts of herbicides compared to carts, these amounts are enough when applied with great spatial accuracy.
The Future
Future improvements that will maximize the value of UAVs to farmers include:
substantially greater endurance
autonomous operation—making their own decision to safely initiate a mission given local weather conditions such as wind, rain and lightning; taking off and flying fields as often as needed; then landing and docking to download the data they collected and recharge their batteries
automated processing of the data and creation of reports and maps
permission from the Federal Aviation Administration (FAA) to fly beyond visual line of sight (BVLOS) (Watch our Webinar on mapping & BVLOS) on large farms; this, in turn, will require, inter al., UAV transponders to enable manned aircraft to detect them and avoid them
greater cellular coverage in rural areas, to enable farmers to download data from anywhere on their property.
Visit the Applanix website to learn more about their UAV mapping solutions for Precision Agriculture >