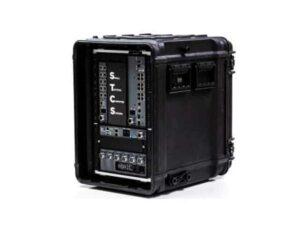 CP Technologies, a developer of military-grade, high-performance computing platforms, has announced the launch of the company's new rugged small tactical computer systems (STCS) at AUVSI XPONENTIAL 2019 in Chicago. The sealed, flexible processing system offers a fast, light, and small solution that is rugged enough to be survivable in the field and powerful enough for unmanned aerial vehicle (UAV) and unmanned ground vehicle (UGV) data processing, ISR processing, and mapping.
Based upon twenty years of manufacturing rugged components under the name Chassis Plans, CP Technologies is now extending that expertise to total system solutions. As part of CP Technologies' evolution into a broader provider of technology solutions to the defense and industrial markets, they are launching the STCS at AUVSI. These systems are ideal for use as ground control stations or processing large amounts of ISR data in addition to other applications. The processing power is contained in a small modular form factor that reduces the cost of transportation and power needs while allowing for increased portability.
Find Suppliers and Manufacturers of Data Processing Components
The sealed systems are configurable for multiple deployed harsh environments for tactical networks including IP65 environments as well as harsh environmental specs such as MIL-STD-810G, 901E, and 461G. The scalable architecture offers flexibility as each rack is configurable as a standalone system or as components in a larger deployed network. The customizable racks are with multiple servers, switches, and routers based on customer requirements. 16-Core/32 thread Xeon Processors and 128GB memory make the systems ideal for configuring networks of virtual machines. All components are sealed without fans which increases Mean Time Between Failures (MTTBF) and reduces energy costs.
Mike McCormack, President of CP Technologies, commented: "Our customers in the field needed a flexible processing system that was lighter, faster, and smaller, while still being rugged. We created a small form factor solution that they could toss in the back of a truck while still offering the power to handle their processing needs. We're excited to launch this industry leading system to meet all of our customers needs both in deployable defense and industrial applications."