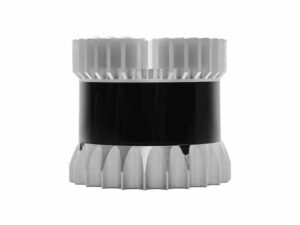 Ouster, a manufacturer of high-resolution lidar sensors, has announced its newest multi-beam flash lidar sensor, the OS-1-128. According to Ouster, the OS-1-128 is the highest resolution lidar on the market and comes with no change in size, mass, power consumption, or ruggedness compared to the company's previous OS-1-64 model.
The OS-1-128 has a 45° vertical field of view, the widest available of any commercially sold high-performance lidar sensor. It is ideal for safety-critical robotics applications like autonomous vehicles, where minimizing lidar blind spots has been challenging to date. It incorporates 0.35° vertical angular resolution, uniformly spaced throughout the field of view, providing a consistent and dense point cloud.
The new sensor also keeps the perfectly correlated 3D and 2D range, intensity, and ambient camera-like images from its predecessor and doubles the vertical resolution.
"Ouster continues to push the frontier of what is possible in lidar; our multi-beam flash lidar architecture gives us the ability to constantly improve our performance while keeping prices low, reliability high, minimizing the sensor's size, weight and power consumption, and producing at volume. In a market where all of these metrics matter and under-delivering on even one of them is a dealbreaker, Ouster continues to provide performance without compromise," said Ouster CEO Angus Pacala.
The OS-1-128 has already been awarded the CES Innovation Award in the Vehicle Intelligence and Self-Driving Technology category.
"We're proud to be recognized for our innovation by the Consumer Technology Association. CES has evolved into a premier autonomous and robotics technology showcase with thousands of exhibitors showcasing their developments, we're honored to be chosen for this award," said Pacala. "It's further validation for us that our unique multi-beam flash lidar approach and commitment to performance and transparency are changing benchmarks in the lidar market."