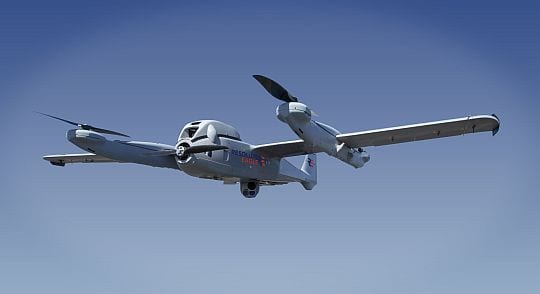 PAE ISR has announced that its Resolute Eagle unmanned aerial system (UAS) has been selected by the Department of Homeland Security Science and Technology Directorate (DHS S&T) to participate in the Robotic Aircraft Sensor Program – Borders.
DHS S&T is looking for unmanned aerial systems with different sensors useful in search-and-rescue, reconnaissance, active shooter response, hostage rescue situations, and many other border and critical infrastructure security scenarios. This program is designed to collect data from the UAS and sensor supplier community to inform DHS S&T and its stakeholders in the Homeland Security Enterprise of current capabilities.
"This is a unique opportunity to demonstrate the Resolute Eagle's capabilities against a wide-variety of scenarios," said Joe Sartiano, PAE ISR chief operating officer. "We look forward to supporting this important program and showcasing the latest industry leading technology."
"The Resolute Eagle was designed for exactly these type of missions," said PAE ISR's chief engineer. "The Resolute Eagle is a multi-intelligence capable, Group 3 UAS platform with long-range capabilities that provide operators flexible payload configurations, launch environments and mission profiles."
The Resolute Eagle also provides real-time Command and Control, data transfers and multiple communication protocols. They include Line of Sight, Beyond Visual Line of Sight, and Satellite Communications enabled Beyond Line of Sight capabilities, plus large payload capacity enables a wide range of law enforcement, homeland security, humanitarian and commercial missions.
The single, reconfigurable aircraft comes in two configurations — standard and vertical take-off/landing — with a flight endurance of 12 to 18+ hours depending on configuration. It is runway independent and offers the VTOL configuration for deployment and recovery in challenging conditions, including maritime and Special Forces operations. The aircraft also features a large payload capacity of 75+ lbs. (34.0 kg), very low acoustic signature at mission altitudes, small logistical footprint, and significant power onboard for multi-intelligence payload integration.
The RASP-B program will focus primarily on border security and law enforcement capabilities and provide training opportunities for border security operators to assess UAS and sensor supplier systems under typical border mission scenarios. Testing will take place in controlled airspace at Camp Shelby located in Hattiesburg, Mississippi, with an eye on developing concepts of operation for unmanned systems and sensors.