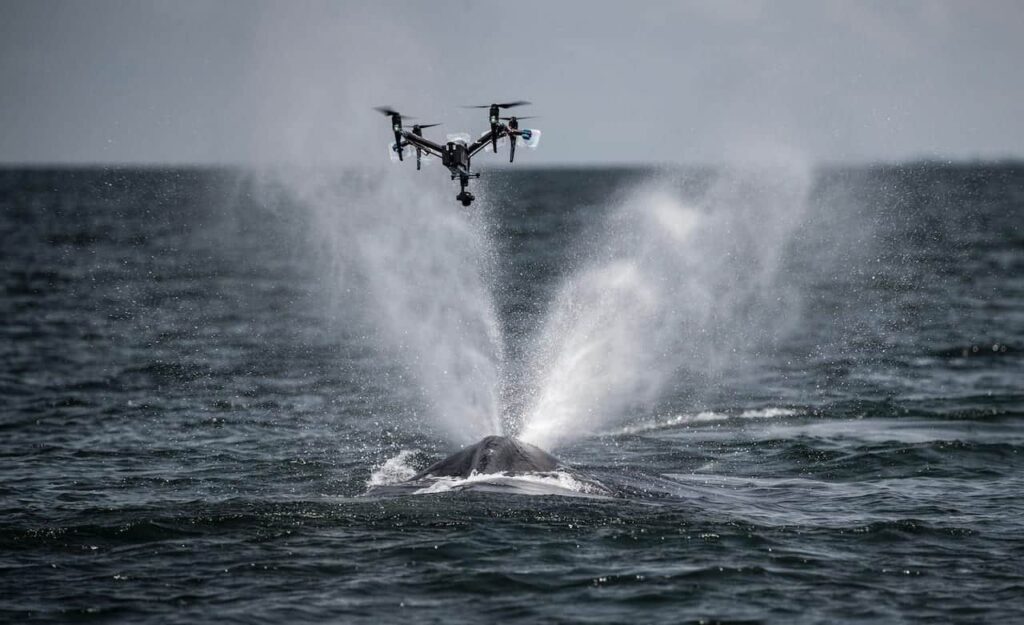 Ocean Alliance has announced that it has developed a method of non-invasively collecting biological samples from whales to gather the data needed for conservation. The solution is based around an unmanned aerial vehicle (UAV) know as the "SnotBot," which can fly into a whale's spout and collect the "blow" or "snot" exhaled as the animal surfaces to breathe. The snot contains rich biological information, including DNA, stress and pregnancy hormones, viruses, bacteria and toxins.
"Instead of five whales a day, we can now sample 20 using our DJI Inspire-based drone," explained Dr. Iain Kerr, CEO of Ocean Alliance. "The SnotBot flies 40 MPH, so even if we are 1,000 feet away, it can be at the blow site in 15 seconds." However, despite this improvement, Kerr was still only getting good samples half the time due to wind. "When I hover the drone 12 feet above an animal I can't see which way wind is blowing, and I regularly miss the blow. It is very frustrating," Kerr noted.
To help solve this issue, Ocean Alliance reached out to DroneBlocks, a company that teaches students the real-world application of drone technology through a free app, an online curriculum, and professional development services. "Ocean Alliance and DroneBlocks have a shared mission of education and drone software development," Dennis Baldwin, founder of DroneBlocks explained. "We immediately saw how we could help them develop an Android-based app and use the results to inspire students across the country."
His team helped Ocean Alliance quickly build an open-source app (available on Github) for SnotBot with DJI's SDK that uses an algorithm to detect wind direction and display this information to Ocean Alliance pilots. The app is currently in beta testing, but is set to improve the snot capture rate by 50%, which would be a huge boom to Ocean Alliance's research and other conservation efforts. Ocean Alliance expects to take the new technology into the field soon to study Humpback Whales in the Dominican Republic.
DroneBlocks, which provides STEM curriculum for hundreds of schools in the United States, plans to use the results in their online courses. "I don't think kids understand what a great adventure science can be," Kerr noted. "SnotBot is a great educational tool. Whales, snot and drones – pretty much every child is going to like at least two out of those three!" Baldwin added, "Inspiring kids to code and use drones for conservation is a mission we all support."