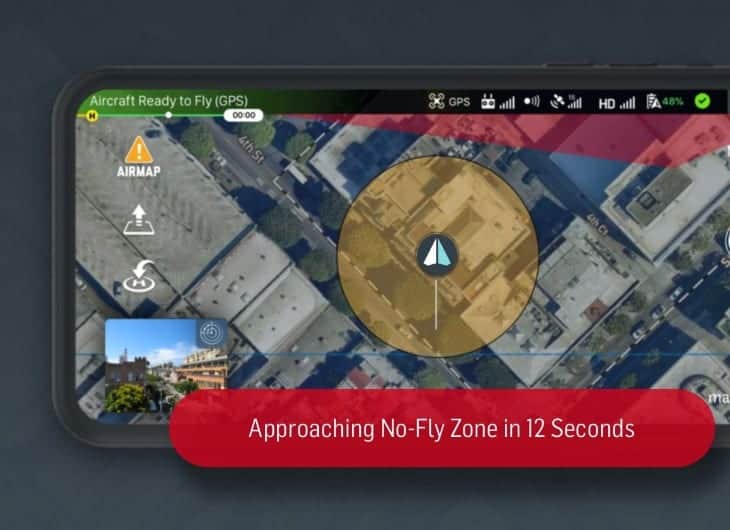 AirMap has announced the launch of Real-Time Geofencing Alerts in the AirMap for Drones mobile application on iOS and Android.
With this new feature, AirMap alerts pilots when they are approaching, on the edge of, or intersecting geofenced airspace areas in which drone flight is regulated (orange) or restricted / prohibited (red). If the pilot's drone's positioning is less than 30 seconds from entering a new airspace boundary, AirMap displays a warning message onscreen and verbally announces the warning with the appropriate message, like "Approaching Class B airspace." Real-Time Geofencing Alerts keeps pilots aware of impending safety concerns at any time while flying, even when airspace conditions change during their flight.
The AirMap for Drones mobile application offers a comprehensive set of digital services for drone operators that makes it easy to learn about any airspace environment, plan a flight in accordance with regulations, and maintain awareness of nearby aircraft while in-flight, anywhere in the world. AirMap is trusted by hundreds of thousands of drone pilots to fly safely in low-altitude airspace.
Sometimes airspace conditions change mid-flight and emergency TFRs require nearby drone operators to adapt immediately. Other times, a drone may veer off course, deviating from its planned flight path and potentially entering regulated or restricted airspace that is off-limits for drone operations.
These scenarios are quite common. A recent study by Embry-Riddle Aeronautical University found that more than 20% of operators were flying higher than the safe altitude prescribed for their operating area, which means that more than 1 in 5 operations poses unmitigated risk to manned aircraft operations. The study also found that only 12% of operations took place over unimproved land and parks, meaning that 88% of operations took place near or above obstructions, urban structures, and other hazards.
AirMap believes that airspace safety can be greatly enhanced with more granular airspace information, collaborative use of airspace and real-time flight assistance enabled by a higher degree of automation and contextual intelligence. Pilots need easy-to-use and smart flight conformance monitoring tools that are configurable to their unique airspace environment, aircraft, and operations. Authorities need to be able to monitor conformance of all flights, and ensure that drones and other aircraft steer clear of airspace advisories, TFRs, and restricted airspace.
Building upon its real-time contextual intelligence capabilities, AirMap's Real-Time Geofencing Alerts will soon be able to go beyond just alerts, with the ability to prevent drones from entering an unsafe operating area or veering off a planned flight path, if the pilot has opted in.
Real-Time Geofencing Alerts are available in the AirMap for Drones mobile application on iOS and Android. Real-Time Geofencing Alerts is only available for operators of DJI drones with the AirMap for Drones fly mode.
AirMap Real-Time Geofencing Alerts are also available to developer partners and OEMs via a mobile SDK for Android and Swift delivering airspace environment status information relative to the UAS flight path. By integrating AirMap Real-Time Geofencing Alerts in their UAS applications, AirMap developers will be able to build value added services enhancing flight safety, compliance and overall experience for their users, like preventing drone operators from flying into airspaces that are regulated or off-limits, ensuring conformance of flight paths, or geocaging a drone's operation within a defined airspace polygon, while leaving the ultimate control of the done to their users as needed.