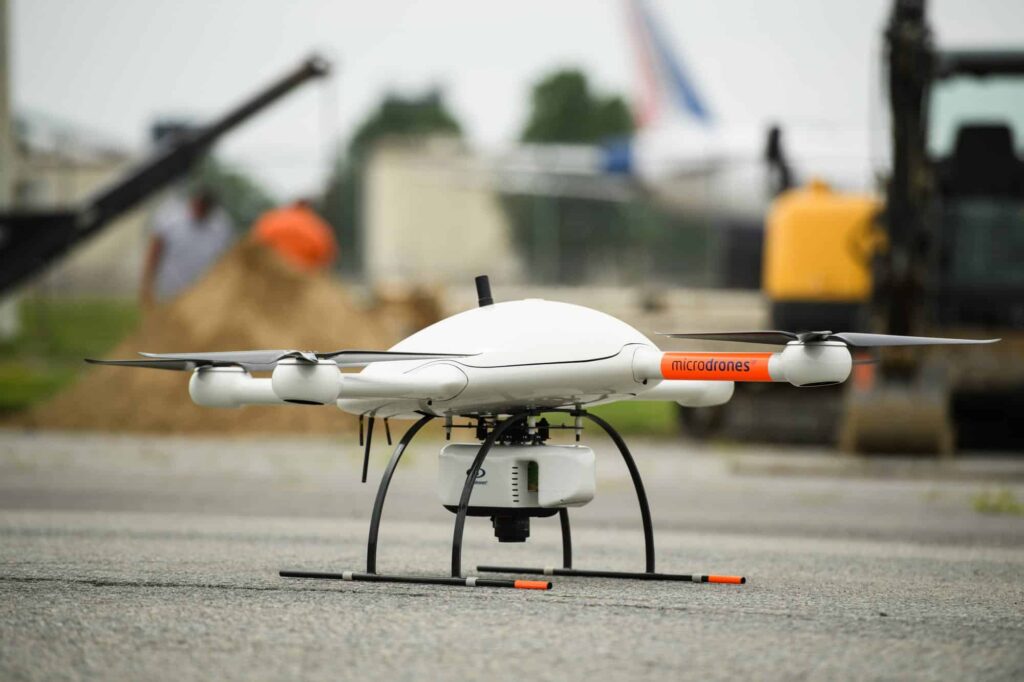 Microdrones has announced the launch of its new mdLiDAR3000, a LiDAR system that combines the heavy lifting power of the md4-3000 UAV (unmanned aerial vehicle) with a RIEGL LiDAR and a SONY camera for rapidly producing colorized pointclouds. The md4-3000 is Microdrones' largest aircraft with a high payload capacity that makes it suitable for handling heavy LiDAR sensors, advanced mapping grade cameras, and multiple sensors, and provides a robust platform for heavy duty LiDAR geomatics.
Microdrones President Vivien Heriard-Dubreuil commented: "Last year, we led the field with the development of mdSolutions like the mdMapper1000DG, the mdTector1000CH4 and our mdLiDAR1000. The new mdLiDAR3000 is the next step in our evolution. Geospatial pros always demand a faster, more effective way to capture elevation data with extreme accuracy. We are very pleased to be the company that can empower them with a powerful new tool to do just that."
Dr. Mohamed Mostafa, Director of Microdrones mdSolutions, said: "The mdLiDAR3000 has been in development for the past three years and this system is revolutionary. Our md4-3000 is the ideal platform to integrate with the RIEGL miniVUX-1UAV LiDAR. The results capable via our integrated system and easy workflow are very impressive and I will be revealing them at my presentations this week."
Mike Hogan, Microdrones Sales Director added: "We put a lot of effort, time and resources into designing this system and it's very rewarding to see this come to fruition. This is a serious machine for serious geomatics professionals in the construction, land development, engineering and geomatics trades."
In addition to this new flagship LiDAR product, the Microdrones team has added new systems to round out its mdMapper lineup: mdMapper1000PPK and mdMapper1000+. All Microdrones mdMapper systems are outfitted to deliver turnkey aerial surveying, mapping, data collection, tailored to the needs of the customer, ranging from the mdMapper1000DG to the entry level, aerial mapping package in the mdMapper200.
Hogan explained, "Although not all of our customers may need the power of direct georeferencing just yet, they all need highly accurate and precise data collection. That's where the mdMapper1000PPK provides high accuracy with just 1-3 ground control points." The mdMapper1000PPK can be upgraded via the DG READY firmware update.
The new mdMapper1000+ system is ideal for users who do not need direct georeferencing or PPK and are willing to install ground control points on site for their projects. Hogan explains, "Customers who frequently fly the same site repeatedly find this to be an adequate solution. Best of all the mdMapper1000+ is ready to expand with the user. It's both PPK ready and DG ready with a practical and affordable firmware upgrade."