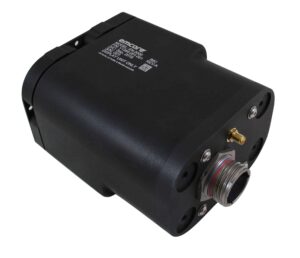 EMCORE, a developer of advanced Mixed-Signal Optics products for defense systems, has announced that it has been awarded a contract by a large U.S. Department of Defense (DOD) contractor to design and deliver several navigation grade Inertial Measurement Units (IMU) for incorporation into custom Inertial Navigation Systems (INS) early next year. These units will be used for system qualification and are expected to be a precursor to production orders.
This navigation grade IMU will be based on technology developed for the EMCORE-Orion series of Fiber Optic Gyro (FOG)-based Micro Inertial Navigation Systems (MINAV). It will be designed to deliver the highest level of performance in EMCORE's navigation systems product line with bias drift over temperature as low as 0.006 degrees per hour for the FOGs, and 35 micro-g over temperature for the accelerometers. The unit achieves this navigation grade performance in a package less than 75 cubic inches, which is an industry first for this class of IMU.
The EMCORE-Orion MINAV is a three-axis design utilizing the Company's proprietary, next-generation solid-state optical transceiver with advanced integrated optics, combined with all new Field Programmable Gate Array (FPGA) electronics to deliver standalone aircraft grade navigator performance at 1/3 the size of legacy or competing systems. The very low Size, Weight and Power (SWaP) of EMCORE-Orion series makes it an ideal inertial navigation system for Unmanned Aerial Vehicles (UAVs), Unmanned Underwater Vehicles (UUVs), Unmanned Ground Vehicles (UGVs), manned aircraft, rotorcraft and dismounted soldier applications.
"We are pleased and honored to be selected for this program to develop a navigation grade IMU for the next-generation of navigation systems," said David Faulkner, EMCORE's Vice President and General Manager of Aerospace & Defense. "The R&D investment EMCORE has made in the development of our innovative EMCORE-Orion series results in significantly reduced size, weight and power, which was integral to being selected for this program," added Mr. Faulkner.