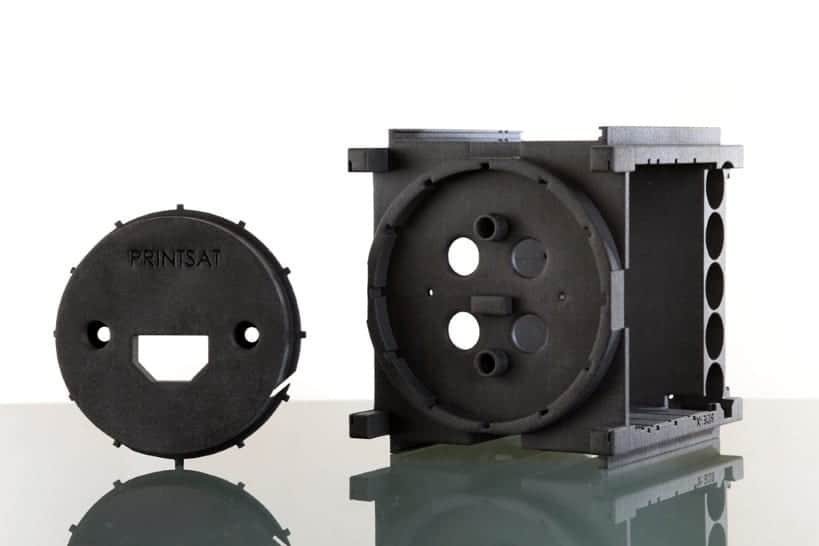 CRP Technology and CRP Meccanica have exhibited at the Sampe (Society for the Advancement of Material and Process Engineering) Israel Conference & Exhibition 2018.
CRP Meccanica showcased state-of-the-art components manufactured by high precision CNC machining and DMLS (Direct Metal Laser Sintering) technology, for applications such as unmanned aerial vehicles and other robotic platforms. The latest solutions for the space industry from the Windform family of high performance composite materials by CRP Technology were also demonstrated. Windform is highly suited as a structural material for space applications, as many of the Windform composite materials have passed outgassing tests and are qualified for such applications.
The latest successful 3D-printed space applications on display include a complex and functional hybrid, single-part 3D printed propulsion system (named AMPS-H), and a 3D printed rampart satellite (a 2U CubeSat consisting of an upper BUS module, Lower Propulsion Module and Solar Panels).
"Windform composite materials initiate the additive advantage for space applications," said Franco Cevolini, CEO and CTO at CRP Technology and CRP Meccanica. "We are very pleased to attend Sampe Israel 2018. It is important for us to explain to the highly knowledgeable attendees how Windform composite materials and Laser Sintering technology lead the additive race to space."
"CRP was founded in 1970 by my father, Roberto Cevolini, as a company for high precision CNC machining in the motorsports sector; we will show how the company has expertly evolved over the past four decades, skillfully responding to the demands of the international market, anticipating highly unique manufacturing solutions worldwide."
Zeev Lavie, CEO and VP Business Development at Myko Engineering, said: "Myko's used to hold the Sampe event every year. It is the most important technical event/seminar in Israel with more than 180 engineers as attendees. Myko dominates the Israeli composite market and it is the major supplier of raw materials in the country. We are very happy to host CRP Meccanica and CRP Technology at the 2018 edition: their technical expertise and knowledge in the field of Additive and Subtractive Manufacturing place them among the leading companies for high precision CNC machining and professional 3D printing."