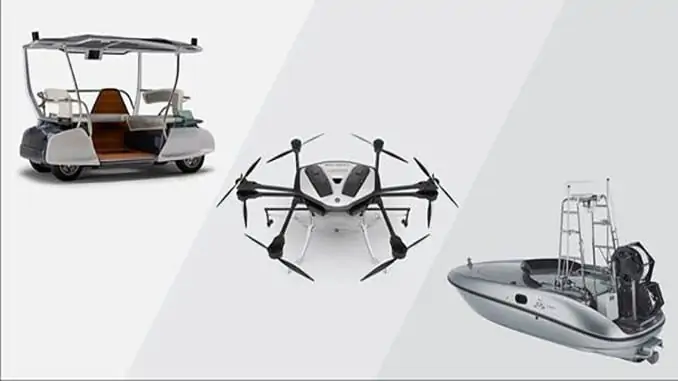 Yamaha Motor has announced that it has formed a collaboration with NVIDIA to apply intelligent technology to products in research and development module groups involving AI computing. Through this collaboration, Yamaha Motor is adopting NVIDIA's GPU computing system, Jetson AGX Xavier. This system, designed specifically for AI, robotics and edge computing, will enable automation of a wide range of Yamaha's products by making them more intelligent.
Target products include unmanned ground vehicles (UGVs), which support automation of agricultural processes such as fruit picking; low-speed vehicles based on golf carts, used for "last mile" transportation of people and logistics; and industrial robots and drones:
UGVs (Unmanned Ground Vehicles)
By promoting automation through applying intelligent technology to agricultural vehicles, Yamaha Motor aims to help address issues in the agricultural field such as the decreasing rural population, automation of agricultural work, and the promotion of precision agriculture.
Low-speed vehicles based on golf carts
Through advances in autonomous driving technology and increased affinity for MaaS (Metal as a Service), Yamaha Motor aims to roll out new means of transport such as in depopulated mountainous regions, tourist spots, and urban areas.
Industrial robots/industrial drones/marine products/other product groups
Yamaha Motor will advance AI platform construction on a shared platform with these product groups, responding to societal needs through automation and applying intelligent technologies.