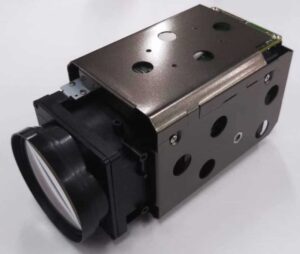 Tamron has announced that it has launched its very first global shutter block camera. The MP2030M-GS is equipped with Sony's IMX265, an industrial grade 1/1.8" Global Shutter CMOS sensor. This camera is combined with a built-in high-power 30x zoom lens and is suitable for both wide angle and telephoto pictures. With 24/7 operation in day or night conditions, the camera is ideal for unmanned aerial vehicle (UAV) applications in security, surveillance, traffic monitoring and more.
The state-of-art sensor used in this device provides 3.19 Megapixel resolution with high light sensitivity and results in excellent picture quality with low noise. Various output modes can be selected – from NTSC/PAL to 1080p/60. The Global Shutter CMOS type imager prevents motion blur in the images when capturing fast moving objects. The lens has a 30x optical and 16x digital zoom which gives it a zoom range from 6-180mm optical and up to 2880mm equivalent focal length using the digital zoom. This fully capable lens makes this block camera quite suitable for a wide variety of working distances. The field of view is between 60° and 2.5° and features a f-stop between 1.5 and 4.8, depending on the zoom factor.
This block camera along with all Tamron lenses are available from global imaging expert FRAMOS. Darren Bessette, Category Manager, Devices, at FRAMOS, says: "The Tamron MP2030M-GS provides everything customers expect with a security type block camera. Random trigger modes and external trigger synchronisation makes this device perfect for traffic monitoring. The wide dynamic range ensures excellent picture quality, even in difficult scenes under both bright and dark light conditions. The electronic image stabilization, defog, auto ICR and privacy maps are well suited for various surveillance and outdoor applications like aerial imaging, drone inspection, or rescue robots."
The MP2030M-GS camera module has both LVDS and composite video and can be controlled via VISCA.