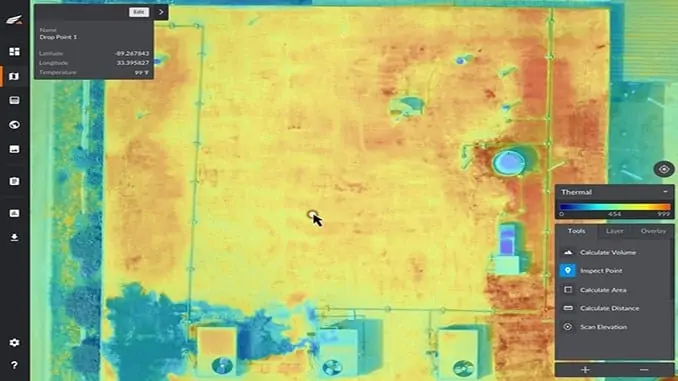 Kespry, a drone-based aerial intelligence solution provider, has announced new high-resolution thermal inspection capabilities for commercial property and industrial facilities. Thermal building inspection is critical for organizations as they look to reduce investment risk in the $750 billion combined commercial real estate, insurance, and management industry. Previously, property managers, owners, and insurers had been forced to rely on expensive and inaccurate manual inspections or low-resolution, first-generation drones to determine the health of a roof. By providing a fully-autonomous, simple-to-use, and high-resolution drone inspection solution, Kespry is reducing the cost of inspections for large-scale commercial buildings and delivering more accurate damage assessment.
For the commercial property industry, drone roof inspections including thermal imaging solve two critical problems. First, they identify previously-unseen damage to roofs, mechanical elements, piping, and other infrastructure unapparent in traditionally-infrequent manual inspections. This enables proactive and preventative maintenance, and uncovers minor issues before they can turn into highly-costly, impactful problems. Secondly, they enable fast and safe inspections to support insurance underwriting and risk mitigation during property ownership transactions.
"Accuracy really matters when billions of dollars of property and facilities are at risk," said George Mathew, CEO of Kespry. "Manual inspections and first-generation drone flights are slow and inaccurate ways of attempting to understand the state of a roof and the risk that issues may have on organizations' productivity. These earlier approaches leave surveyors, risk assessors, and roof inspectors guessing at the specific location of leaks, blocked drains, or damage to building infrastructure, all of which can have serious impacts on assets inside. The new Kespry solution for commercial roof inspection solves these problems."
Kespry's thermal inspection solution is based on radiometric temperature analysis, providing actionable data to people inspecting roofs. Radiometric analysis means that a specific temperature is displayed for a specific point on a roof. In contrast, non-radiometric thermal drone data simply shows general temperature differences and changes in an area, making it hard to determine whether there is a specific point of damage or concern.
Additionally, Kespry uniquely creates thermal inspection views that combines pixel-level thermal data with high-resolution imagery. This enables users to granularly determine the specific location of heat damage rather than rely on the grainy, poorly-defined visual cues of earlier drone-based solutions. With Kespry, more accurate damage assessments can be conducted, reducing the need for follow-up manual inspections once a thermal anomaly is identified.
The Kespry commercial roof solution also incorporates accurate roof dimensional analysis. With this feature, users can get the dimensional data they need to complete an inspection report or pinpoint areas of concern faster and at lower costs.
"For too long, commercial property firms have relied on randomly-conducted, dangerous manual roof inspections to protect billions of dollars of property," said Mathew. "We know commercial property professionals must juggle multiple responsibilities. By providing actionable, radiometric-thermal data integrated with high-resolution visual data, and delivering roof dimension data, Kespry's commercial roof inspection solution gives owners and insurers less to worry about, while saving them millions of dollars in repair and lost productivity costs."