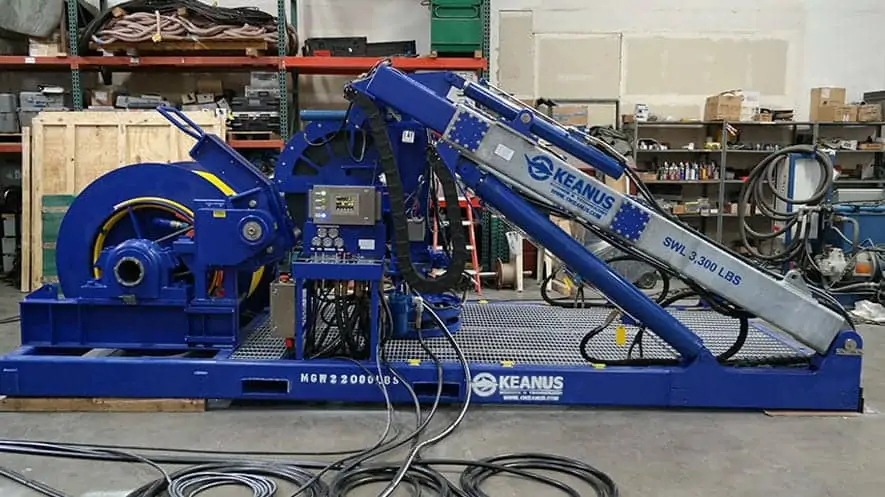 Okeanus Science & Technology has announced that it has delivered a self-contained, Rapid Mobilization ROV (Remotely Operated Vehicle) Launch & Recovery System to Phoenix International Holdings.
The fully integrated system, designed and built to launch and recover a free-flying ROV, contains a winch / levelwind assembly, self-erecting A-Frame, docking head / over-boarding sheave assembly and electro-hydraulic power unit, all mounted to a single skid. This innovative design allows the entire system to be placed into an ISO flat rack for ease of transport and deployment. To further facilitate rapid mobilization, the ROV is stored on the skid assembly during transport.
The winch assembly provides a full drum safe working load of 14,678 N (1,467 Kg, 3,300 lbs.) at a full drum line speed of 0.50 m/s (30 mpm,100 fpm). The winch drum is capable of holding 939 meters (3,080 ft.) of 26 mm (1.03 in.) outside diameter umbilical. The system A-Frame provides a safe working load luffing / overboard of 14,678 N (1,467 Kg, 3,300 lbs.), an over-boarding reach of 3,023 mm (119 in.) and width between legs of 1,930 mm (76 in.). The system docking head provides a cushion / latch assembly to secure the ROV and features swing in-out and rotate capability for safe launch-recovery.
The entire handling system, which was designed and built in accordance with ABS Rules for Building and Classing Underwater Vehicles, Systems and Hyperbaric Facilities (2017), is powered by an Okeanus-supplied 18 kW (25 HP) electro-hydraulic power unit which is also stored on the skid assembly during transport.
Don Brockett, Vice President of Okeanus, said: "We are pleased to have been selected by Phoenix International to provide such a compact, comprehensive free-flying ROV launch and recovery system enabling Phoenix to enhance their worldwide ROV services by providing a system conducive to immediate deployment via air or ocean transport. Our design greatly streamlines the logistics of transporting a complete ROV package to optimize mobility and productivity". Brockett also stated "Our manufacturing and engineering capabilities once again have combined to enable Okeanus to provide a cost-effective system in accordance with our customer's specifications."