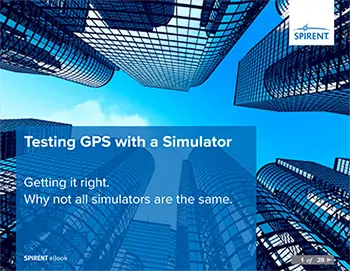 Many unmanned aerial vehicles (UAVs) rely on global navigation satellite systems such as GPS to fly an accurate course. Spirent have released a free eBook highlighting some GPS simulation considerations that UAV designers should take into account when verifying their designs.
The eBook highlights methods that can be used to check a GPS-enabled device, and tests that can be used to measure performance of different features. It also explains what a GPS simulator does, what tests it produces and which tests are right for particular applications.
Using a GPS simulator allows designers to control test conditions and precisely repeat tests – something that cannot be matched by using live satellites for testing. It also enables simulation new satellite systems long before they go "live". Most location devices use the US GPS system, but other Global Navigation Satellite Systems, or GNSS, are becoming more widely used, such as the Russian GLONASS, Chinese BeiDou and European Galileo systems.
RF constellation simulators reproduce the environment of a GPS receiver on a dynamic platform by modeling vehicle and satellite motion, signal characteristics, and atmospheric and other effects – causing the receiver to actually navigate according to the parameters of the test
scenario. Other testing equipment methods that have emerged as alternatives to constellation simulators include:
Live sky
Pseudolites
RF record and playback systems (RPS)
Single-channel RF simulators
Multichannel RF constellation simulators
Spirent's eBook discusses the pros and cons of each of these methods, which depend in turn on the test requirements. Laboratory testing of any GNSS receiver design will require a range of standard tests in order to exercise the full functionality of the receiver under a variety of operating conditions. These tests, which might be carried out individually or combined, may include:
Time to first fix
Acquisition sensitivity
Tracking sensitivity
Reacquisition time
Static navigation accuracy
Dynamic navigation accuracy
Radio frequency interference
While the majority of GPS simulation options offer some of the attributes required for testing GPS receivers, many instruments also have their shortcomings. Choosing the right solution depends on your particular test application. To learn more, download the free eBook produced by Spirent.