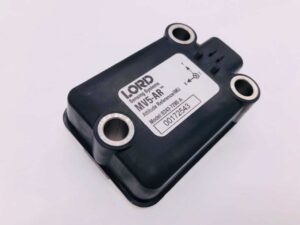 LORD Sensing has announced the launch of a new line of rugged inertial sensors designed for use in demanding environments for dynamic inclination and positioning. The MV5-AR inertial sensors are ideal for military unmanned systems and vehicles, marine and mobile robot applications, and the autonomous vehicle market. The rugged, compact, state-of- the-art inertial sensors utilize LORD Corporation's proven fifth generation high-performance industrial grade solid-state 6-DOF MEMS accelerometer and gyro inertial sensor technology.
"The sensors respond to a market need for a sensing solution that offers better attitude & positioning accuracy and dynamic response in locations such as on the boom of an excavator or frame of a wheel loader," said Chris Arnold, LORD Sensing Product Manager. "Customers are replacing traditional rotary and linear position sensors that provide less rich data on machine position and motion."
Already successfully deployed on ground robots and heavy machinery, intended applications include auto-steer and terrain compensation; dynamic incline detection (roll, pitch, rotation); vehicle stability and leveling; platform control, alignment and stabilization; operator feedback; and precision navigation.
The MV5-AR model has a compact and rugged reinforced PBT housing fully sealed for immersion, pressure wash (IP67, IP69K) as well as a molded-in AMPSEAL 16 connector. Each sensor is fully calibrated and temperature compensated. MV5-AR models also feature:
Small form factor
Full 360-degree measurement range about all axes, so can be mounted in any orientation
Full accuracy over the entire operational temperature range of -40°C to 85°C.
CAN J1639 communication
Auto-Adaptive Extended Kalman Filter for optimal dynamic accuracy
The MV5-AR provides inertial and slope J1939 messages in its standard configuration. Customized CAN protocols and messages are available.