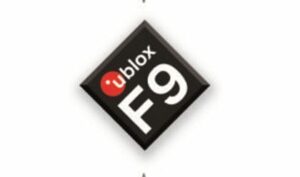 u-blox, a developer of wireless and positioning modules and chips, has announced the launch of the u-blox F9 technology platform, which delivers high-precision positioning solutions for mass market industrial and automotive applications such as autonomous driving and unmanned vehicles.
The platform combines multi-band Global Navigation Satellite System (GNSS) technology with dead reckoning, high precision algorithms, and compatibility with a variety of GNSS correction data services to achieve precision down to the centimeter level.
"High precision is the next frontier in positioning for mass markets, with countless applications in need of a robust and scalable high precision positioning solution. u-blox F9 provides the hardware and integrated software components to address these needs," says Daniel Ammann, Executive Director Positioning Product Development, Product Center Positioning at u-blox.
The u-blox F9 platform will underpin the next wave of u-blox positioning modules targeting mass market industrial and automotive applications. It uses GNSS signals in multiple frequency bands (L1/L2/L5) to correct positioning errors caused by the ionosphere and deliver fast time to first fix (Fast TTFF). Its ability to receive signals from all GNSS constellations (GPS, GLONASS, Galileo, Beidou) further improves performance by increasing the number of satellites that are visible at any given time. Stand-alone u-blox F9 solutions robustly achieve meter-level accuracy.
Find suppliers of GNSS products for unmanned applications >
To achieve centimeter-level accuracy, u-blox F9 offers optional on-chip Real Time Kinematic (RTK) technology. In addition to offering an open interface to legacy GNSS correction service providers, it supports the main GNSS correction services, taking RTK high precision positioning to mass markets.
Optimized for low power consumption, the u-blox F9 platform sets a high standard for security with built-in jamming and spoofing detection systems that protect against intentional and unintentional interference. Dead reckoning technology based on inertial sensors extends high precision performance to otherwise challenging urban environments.
Automotive applications of the technology include lane level navigation for head-up displays and vehicular infotainment systems as well as for vehicle-to-everything (V2X) communication, a prerequisite for highly automated and fully autonomous vehicles.
In the industrial realm, u-blox F9 will enable mass adoption of commercial unmanned vehicle applications including drones and ground vehicles such as heavy trucks or robotic lawnmowers.