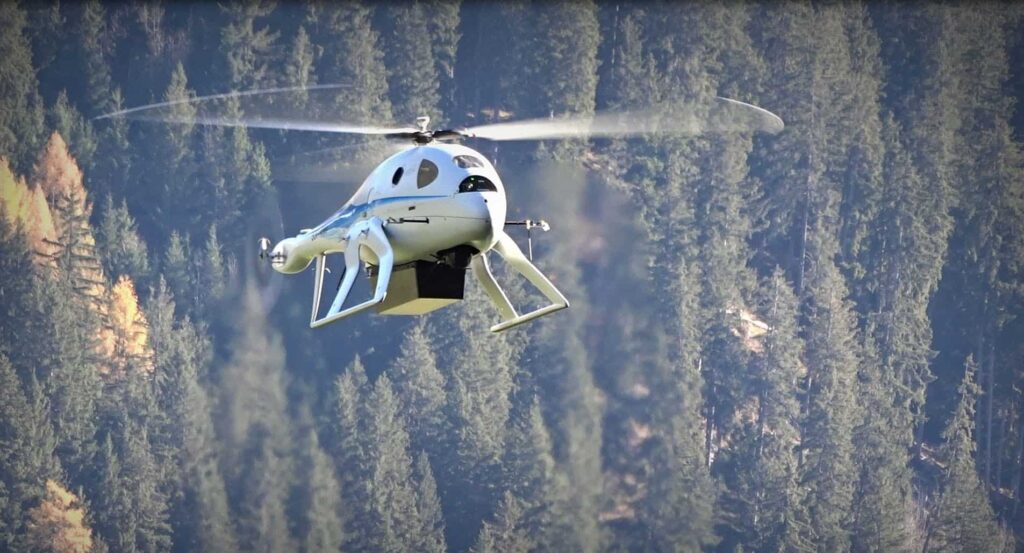 UMS SKELDAR has announced that, along with its key partner ESG (ESG Elektroniksystem- und Logistik-GmbH), it has successfully completed a week of flight demonstrations with the new R-350 unmanned helicopter platform for The Federal Office of Bundeswehr Equipment, Information Technology and In-Service Support (BAAINBw).
The modified R-350, which was used as an Unmanned Mission Avionics Test Helicopter (UMAT), included two specialised payloads from ESG comprising Light Detection and Ranging (LiDAR) and EO/IR gyro-stabilised camera weighing over 27 kg at a maximum take-off weight of 150 kg. The successful flights at Bundeswehr Technical Center for Aircraft and Aeronautical Equipment (WTD 61) in Manching demonstrated the R-350's ability to evaluate sensors and algorithms whilst performing automatic landing site recognition for manned helicopters Beyond Visual Line of Sight (BVLOS).
"We have been working with UMS SKELDAR on providing a light-tactical rotary UAV that can carry multiple payloads, following requests from a number of clients for this capability," explains Tobias Paul, Project Manager UMAT Experimental Systems for ESG GmbH. "Through this latest successful flight demonstration for The Federal Office of Bundeswehr Equipment, Information Technology and In-Service Support, we have proven that not only is it possible to carry multiple payloads on smaller UAVs, but also that they can be simple to operate and maintain."
The new ITAR-free light tactical high-performance R-350 incorporates an innovative modular design concept that can easily be certified for aerospace classifications and combines a short turnaround time and built-in test functionality. In addition, the new platform includes a complete propulsion unit that can be replaced in less than 45 minutes, and a jet turbine that can be changed in less than 15 minutes, both of which run on Jet A1 and JP8 heavy fuels. Being under 150 kg Maximum Take-Off Weight (MTOW), the R-350 requires only national certification, adding to its ease of use and operation. It can also deploy multiple payloads at the same time, as proven by the flight demonstrations for BAAINBw.
"We have been working very hard over the last few months to design a smaller VTOL platform that can provide customers with an ability to carry out smaller critical activities, all the while having the provision to carry multiple payloads, explains David Willems, Business Development Director for UMS SKELDAR. "Alongside our larger SKELDAR V-200 platform, this portfolio approach enables us to provide military, maritime and civilian organisations with a wide range of tactical activities from search and rescue and border patrol to medical supply and cargo delivery."