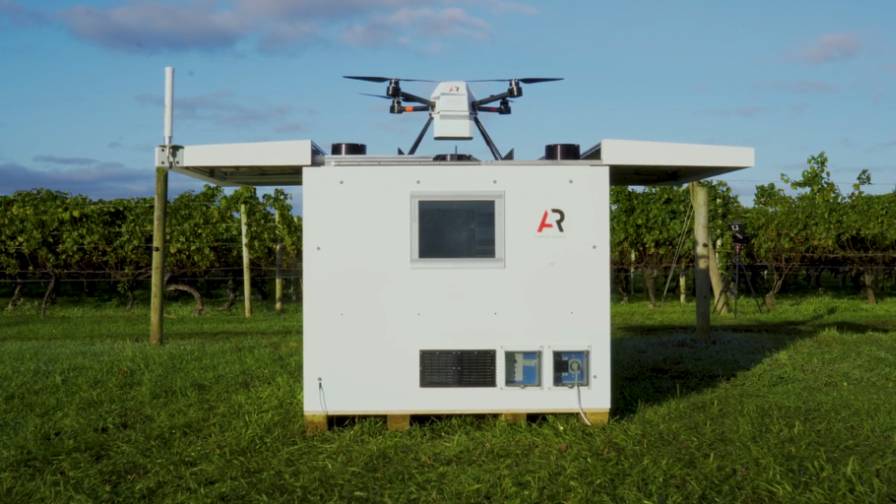 American Robotics, an industrial drone developer specializing in agricultural automation, has announced the release of its flagship product Scout, a self-charging, self-managing drone system capable of autonomously carrying out daily scouting missions.
Traditional scouting techniques can often be inadequate at detecting plant stress early enough to offset the billions of dollars of lost yields, and are often time-consuming, complicated, and uneconomical. To improve agricultural decision-making, optimize inputs, and maximize yields, automation must be delivered in a reliable industrial solution.
Scout delivers this automation in a turn-key package consisting of an autonomous drone with visual and multispectral cameras and a weatherproof drone station which handles housing, charging, data processing and data transfer. Once installed within a farmer's field, it requires no manual intervention to plan, fly and manage the drone operations. Health reports and analysis are seamlessly sent to the farmer. The system has already been deployed in a range of agricultural locations across the United States.
"The technology behind Scout was developed after working with farmers and ag professionals to understand the unique logistical and economic challenges they face. As a result, Scout is the first practical, industrial drone system that truly addresses the needs of this industry. Full-automation is a key ingredient in the future of precision farming, and we're eager and excited to finally deliver this capability to our customers," said Reese Mozer, Co-Founder and CEO of American Robotics.
"The potential for Scout to advance precision agriculture is immense. One of the most frequent questions I receive is, 'When am I going to be able to buy a drone that can just fly my whole farm without me being there?' Because so much time and cost is needed just to operate a drone, growers and agronomists are unlikely to utilize it more than once a month, if at all. This prevents them from getting imagery data at a frequency and resolution necessary for effective crop scouting," commented Dr. Ray Asebedo, Professor of Precision Agriculture, Kansas State University.