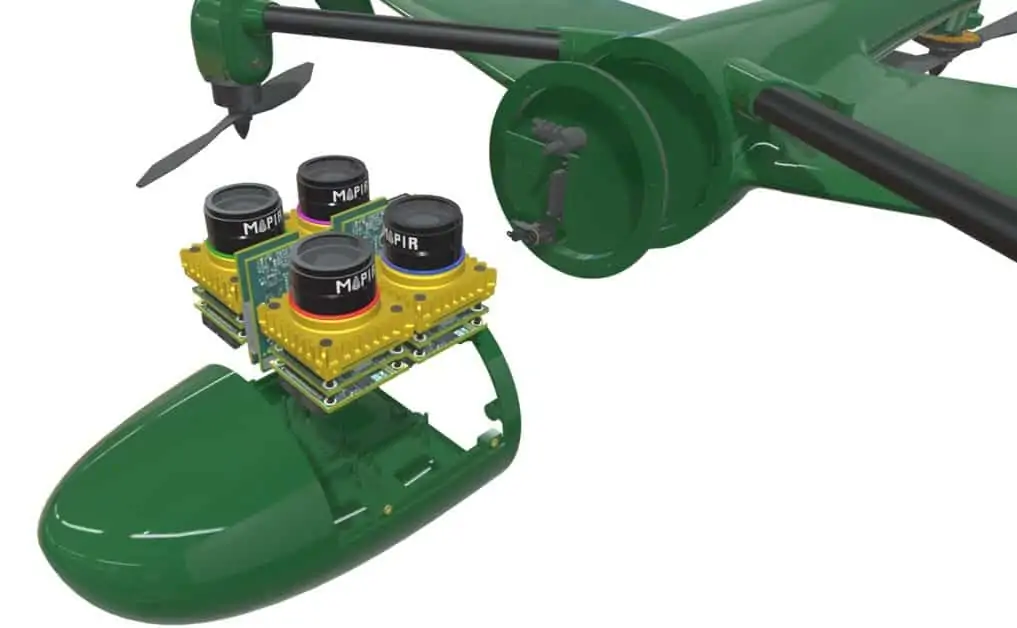 FlightWave Aerospace Systems has announced that it has formed a partnership with aerial sensor company MAPIR as part of FlightWave's Payload Partner Program (PPP). The program is designed to quickly bring new payload options to market by sharing CAD files and engineering schematics with anyone who wants to integrate their sensors on FlightWave's Edge UAS. This is the first such partnership under the new program.
The new partnership offers the UAS industry a combination of easily configurable multispectral and high-resolution camera arrays on a versatile airframe.
FlightWave's Edge was designed to be payload agnostic, providing a high-performance vehicle that would be adaptable to a wide range of use cases for customers who need a sustained aerial presence in high-wind, maritime, or terrestrial missions. Its compact, vertical take-off (VTOL) design allows a pilot to take off anywhere like a multi-rotor and fly for hours like a fixed wing.
"We picked MAPIR as our very first partner because their company shares our approach to serving the UAS marketplace," explained FlightWave CMO Edmund Cronin. "We both see that customers need flexible, modular products that can be combined in innovative ways to help better achieve their missions."
Both companies share the same modular design vision: FlightWave's long-range Edge UAS allows entire payloads to be quickly swapped, while MAPIR offers arrays of fully customizable Kernel cameras giving the pilot the ability to configure a single payload specifically for each project's requirements.
At launch, MAPIR's Kernel cameras will be offered in either a 14.4MP RGB color or 3.2MP monochrome sensor option with matching lens field of view for easy survey planning. Each camera includes its own internal memory storage and connects to one another using the signal-distributing array link boards. Professional level shutter triggering and exposure feedback, along with precise onboard geotagging, allows for the highest accuracy using the newest GNSS solutions available.
"We're excited to leverage the easily swappable payload capability of the FlightWave Edge UAS for our cameras — and FlightWave's Payload Partner Program was amazingly easy for us to integrate with," said MAPIR CEO Nolan Ramseyer. "Our Kernel array cameras are used primarily in aerial surveying for industries like oil and gas, telecommunications and agriculture, so our customers need a reliable aircraft with the flight duration and portability that FlightWave offers."
Thanks to the Flightwave partnership with MAPIR, customers can build an incremental, upgradeable system rather than having to buy a whole new platform as their needs change. The Edge airframe is being sold as a ready-to-fly package and MAPIR's Kernel arrays will be availble in a variety of configurations.