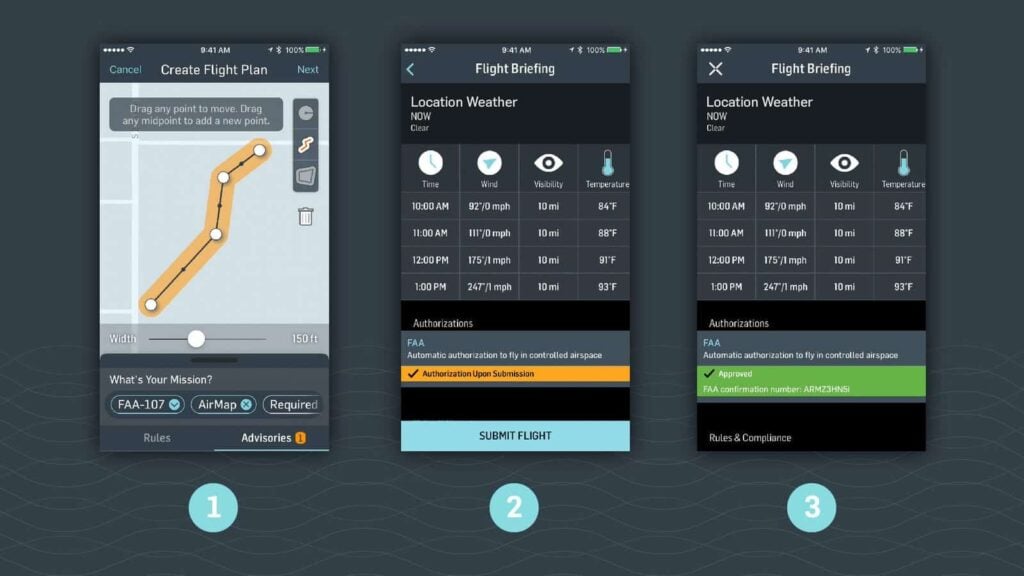 AirMap has announced that commercial drone operators can now request automated authorization to fly in controlled airspace near select U.S. airports using the AirMap iOS and Android applications. These automated authorizations are the result of collaboration with the FAA's Low Altitude Authorization and Notification Capability (LAANC) initiative.
Automated authorization is currently available at four initial sites: Cincinnati/Northern Kentucky International Airport (CVG), Lincoln Airport (LNK), Reno-Tahoe International Airport (RNO), and San Jose International Airport (SJC). More FAA facilities are expected to offer LAANC authorization in the near future, with a larger nationwide beta initiative expected in 2018.
Before LAANC, waivers to fly in controlled airspace could only be obtained through a lengthy application process that can take up to 90 days. Automated authorization near participating airports can now take only seconds with AirMap.
A Part 107 operator can view LAANC-enabled airspace and apply for authorization. AirMap submits the request to the FAA for approval, and in seconds, notifies the operator via text and in the app's flight briefing that the request has been approved. (Drone operators that already use AirMap should update the app to access the new authorization features.)
Drone operators can apply for two types of authorization with AirMap:
Automated authorization: Up to predetermined altitudes near participating facilities, drone operators can receive approval in seconds to fly in controlled airspace.
Manual authorization: If the flight requires manual approval by air traffic control, drone operators can request hassle-free authorization and receive confirmation in 30 days or less. Operators can also use AirMap to view conditions that would be eligible for automated authorization, and adjust their flight plans accordingly.
The launch of the LAANC prototype is the culmination of a year of collaborative development with the FAA and other LAANC project partners. The project was initiated through an open and competitive FAA Request for Information in 2016. Of the applicants, 12 LAANC partners, including AirMap, were chosen to participate.
According to the FAA, automating the authorization process will significantly enhance safety for all those sharing the skies. "LAANC is expected to dramatically reduce the incidence of noncompliant operations. The FAA estimates a minimum of 30% reduction in noncompliant operations would result in 450 fewer safety reports over the next six months," the FAA stated in a recent notice.
LAANC will also help drone businesses take off: time-sensitive requests that couldn't be completed due to the 90-day waiting period can now be approved in seconds. Drone operators will be able to fly more missions in more airspace than ever before, creating more opportunities to contribute to the U.S. drone economy, which is expected to generate 100,000 jobs and $82 billion in economic impact by 2025.
"AirMap is very excited to work with the FAA and LAANC project partners to make automated authorization a reality," said Ben Marcus, CEO of AirMap. "Now, drone operators can use AirMap to get immediate airspace access for flights that grow their businesses and accelerate the drone economy. These four airports are just the start. We're looking forward to bringing automated authorization to airports across the country, and we hope that we can soon share LAANC authorization with our entire developer community."