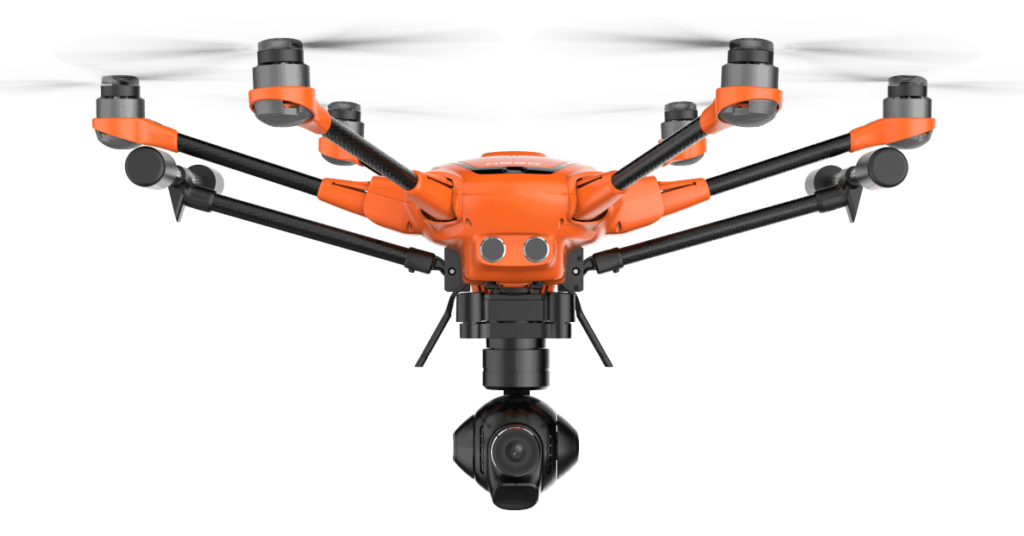 Yuneec International has announced the availability of the H520 sUAS (small unmanned aerial system), the company's first product dedicated to commercial use. The H520 system utilizes Yuneec's six-rotor platform and incorporates enterprise-grade cameras and mission planning software for high-end commercial use in applications such as public safety, construction, inspection, and video production.
The H520 offers reliable and stable flight, a variety of payload options, and an integrated ground controller. The system is initially available with the E90 high-resolution camera utilizing a large aperture, one-inch sensor.
Find suppliers of VTOL UAVs for Commercial Applications >
The H520 sUAS, engineered for optimal use in industrial and commercial environments, features high visibility Hazard Orange fuselage and a six-rotor design capable of emergency flight with only five rotors. The H520 modular design is compatible with Yuneec's E90, E50 and CGOET cameras. All camera payloads are interchangeable and hot-swap capable. The E50 camera is a medium focal length, high-resolution camera suited for use in inspections and for broadcast. It provides up-close visuals while keeping the airframe a safe distance from the asset. The E90 is a wide-angle, high-resolution camera for applications that require high quality photos and video as it utilizes a 20-megapixel one-inch Sony Exmor sensor and the latest Ambarella H2 high-speed image-processing chip. These specs make it ideal for building information modeling, 2D/3D mapping as well as film production. The CGOET dual thermal-RGB camera is specifically designed for public safety, search and rescue, and solar inspection applications and is the industry's first combined thermal and residual light camera with integrated gimbal. The E90 and E50 cameras also include adapter rings which allow mounting of standard, high performance third-party filters.
All of Yuneec's commercial cameras are capable of a continuous 360-degree motion, providing an unobstructed view from any angle when paired with the H520's retractable landing gear. Additionally, the camera and gimbal are capable of a 20-degree up-angle for upward-looking inspections. The H520 comes with the professional-grade Android-based ST16S controller, which has a large 7-inch integrated display and HD 720p video downlink for real-time video reception, and an HDMI uplink for distribution to external monitors.
"Our team of engineers and product managers have conducted extensive field testing to refine the H520 software and create a best-in-class commercial-grade UAV," said Dr. Michael Jiang, CEO of Yuneec International. "We're confident operators will discover the H520 is a versatile tool for a variety of enterprise applications thanks to its suite of dependable, reliable and advanced features including DataPilot, Yuneec's integrated mission planning software."
Yuneec DataPilot is a complete solution for planning survey and waypoint-based UAV flight, and is integrated with the hardware and software control system utilized by the Yuneec H520 sUAS. as well as being tightly coupled to the PX4 flight control architecture.
A key advantage of complete system integration is that UAV operation can be operated as a closed architecture. Jiang added, "Yuneec's customers recognize the importance of keeping data and images secure. The Yuneec data ecosystem empowers users and organizations to control their data at all times. Yuneec commercial sUAS do not collect and do not share telemetry or visual data to internal or external parties."
The H520 software development kit allows third parties to develop value-added applications and services on the sUAS platform for a variety of commercial uses. The Mobile SDK is a software development kit created to give developers access and control over the hardware and software components of the Yuneec UAV platform. Christoph Strecha, CEO & Founder of Pix4D, Yuneec software partner and creator of data imaging applications, claims, "The Yuneec H520 SDK will enable Pix4D to provide software that is more tightly integrated with the UAV flight system and data capture process, resulting in more accurate 3D representation of site maps or aggregate volumetrics."