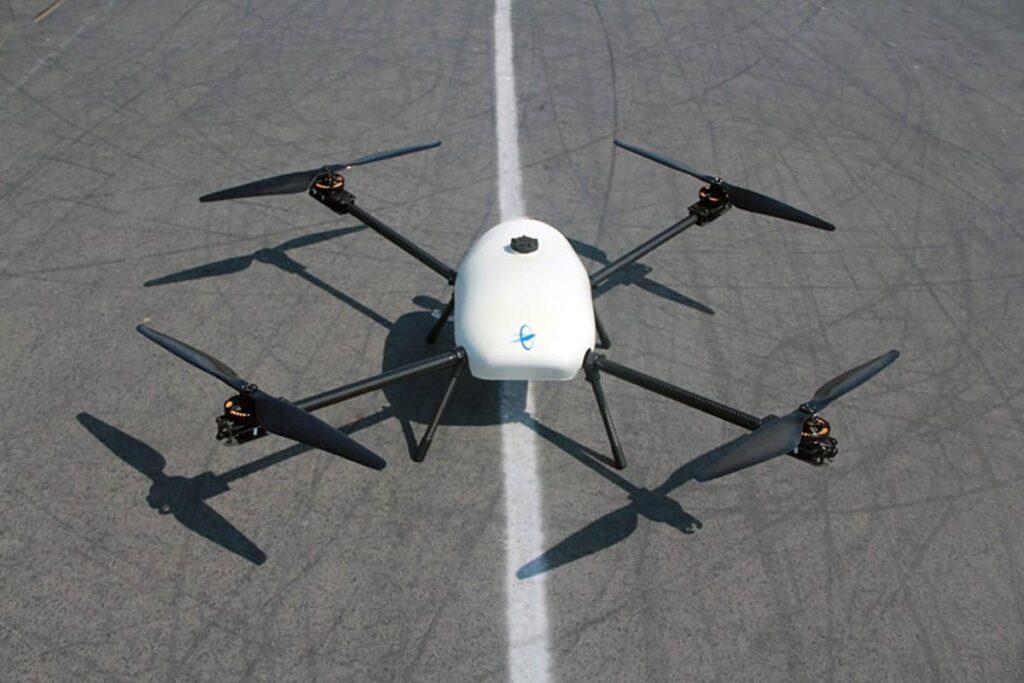 Skyfront, a manufacturer of multirotor drones for the agriculture, energy and utility industries, has announced that its flagship drone has set a new world record for endurance. The Skyfront Tailwind UAV flew for a total of 4 hours and 34 minutes, around 10 times longer than many battery-powered drones.
"This is a huge milestone for the commercial drone industry," said Skyfront CEO Troy Mestler, Ph.D. "Within a couple of weeks, we expect our UAV to fly for a full 5 hours, and further out we expect it to travel for over 100 miles. The Tailwind allows businesses to monitor, map and inspect large, remote assets like powerlines and large farms. Drone operators can now perform their jobs in a single flight, without having to constantly launch, land and swap batteries, significantly reducing operating costs."
This endurance record supports Skyfront's broader mission of creating fully autonomous drone systems that can fly safely over the horizon, far beyond the line of sight of the operator. The eventual goal is to replace larger and more expensive manned helicopters.
Find suppliers of VTOL and Multirotor Drones >
"Skyfront has conquered some of the biggest challenges preventing widespread drone adoption – endurance and range," said Danny Ellis, CEO of SkySpecs, a wind-turbine drone inspection company. "Skyfront's solution has the ability to change the way we deploy our technology for wind turbine inspections because it would allow us to inspect a dozen or more wind turbines in a single flight instead of changing batteries between each inspection. It also allows us to look at other markets where our precision flight is required for long range infrastructure inspection. I haven't seen another company with a viable product that has solved these problems for multirotors."
Skyfront claims the following benefits for commercial drone service providers of using its unmanned aircraft systems:
Faster mission completion
Capability to perform more types of missions
Ability to explore areas inaccessible to drones of limited range
Better performance in wind vs. VTOL fixed-wings
Longer hover time vs. VTOL fixed-wings
Easier operation vs. fixed-wings
The same small form factor and ease of use as a traditional multirotor.
The Tailwind's autopilot, onboard computer, and comm. links are based on open-source software, hardware and protocols, maximizing customizability and compatibility with existing sensors and software created by vertical partners.
The Tailwind can be equipped with various sensors for different applications. Skyfront is currently creating two versions of the Tailwind. The first carries a LiDAR sensor and the second carries a dual visual and infrared camera. Applications that benefit most include powerline and telephone line inspection, corridor mapping, security, land surveying, and crop monitoring.
"As a service provider for large farms, Aker Technologies depends on drones with long flight times for crop monitoring at scale," said Aker CEO Orlando Saez. "We are impressed with Skyfront's Tailwind drone, as it now makes many agricultural applications cost-effective."
Find suppliers of VTOL UAVs >