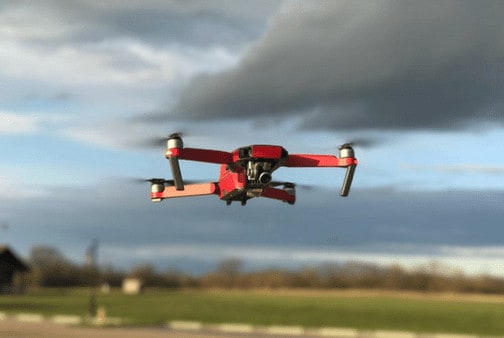 Earth Networks, a provider of weather intelligence solutions, has announced Sferic DroneFlight – a new advanced predictive weather service specifically designed for commercial drone markets within construction, insurance, oil and gas, agriculture, and public safety.
As organizations move towards deploying drones for commercial applications ranging from delivery of goods to consumers to performing infrastructure inspections, one of the most significant challenges to emerge is the need for advanced weather data. Wind speed and direction data are particularly critical in the 10-400 foot low-altitude range where commercial drones operate – a range too high for traditional surface-level wind data to be used exclusively and too low for wind data utilized by airlines operating at much higher altitudes.
Sferic DroneFlight addresses this challenge by delivering hyperlocal wind forecasts for any latitude and longitude in the world. The forecast is available at 10-meter altitude increments and hourly intervals for out to 6 days – enhancing commercial drone flight safety and efficiency across all three phases of drone operations: pre-flight planning, in-flight operations, and post-flight analysis.
This solution builds on Earth Networks' long-standing partnership with forecast provider Global Weather Corporation (GWC), delivering benefits allowing commercial drone operators to:
Optimize drone mission timing – Wind forecasting is provided for hourly time intervals, allowing drone missions to be planned for specific days and times to determine optimal flying conditions for capturing high-resolution imagery
Maximize drone flight duration – With wind speed and direction forecasting, flight paths and elevation can be defined to accommodate battery life and complete missions within a drone's operating capacity
Extend geo-fencing for severe weather – Drone missions require an ability to forecast weather with hyperlocal precision to determine where severe weather is occurring so drones can be routed accordingly or grounded until the weather clears
Assess weather conditions in non-connected areas – For missions in remote areas with limited connectivity, utilizing the 6-day hourly forecast provides operators with weather information while traveling to mission sites and for planned mission times
Analyze the impact of weather – Combining Sferic DroneFlight with historical weather datasets, companies can integrate weather information with captured imagery to understand the causes of deterioration or damage
In international markets where weather intelligence such as radar is often unavailable, Sferic DroneFlight complements Earth Networks Dangerous Thunderstorm Alerts, a predictive convective storm algorithm powered by the company's hyperlocal early warning networks of 10,000 weather sensors and 1,500 lightning sensors covering 90 countries. Drone operators around the world can utilize both solutions together to identify potential disruptive weather conditions such as high winds, hail, and precipitation.
The University of Maryland (UMD) Unmanned Aerial Systems (UAS) Test Site, a research and operations facility led by experts in military and civilian aviation, engineering, and project management, is serving as a testing facility for the new low-altitude wind forecast solution. "We are thrilled to support the efforts of Earth Networks to bring advanced weather data to drone operations, as it reinforces our commitment to accelerating the safe, effective application of UAS technology," said Anthony Pucciarella, Director of Operations at the UMD UAS Test Site.
"Until now, drone operators have had to plan missions by relying on surface-level weather information or high-altitude measurements provided to commercial airlines, neither of which provides the needed intelligence to optimize missions. Our new low-altitude Sferic DroneFlight offers the ideal vertical resolution needed for operators to assess relevant weather conditions," said Anuj Agrawal, Chief Marketing Officer at Earth Networks. "As the drone market and regulatory environment continue to evolve, weather intelligence will be a key technology to enable longer and beyond line of sight missions. We look forward to working with industry partners to bring continued innovation to market."