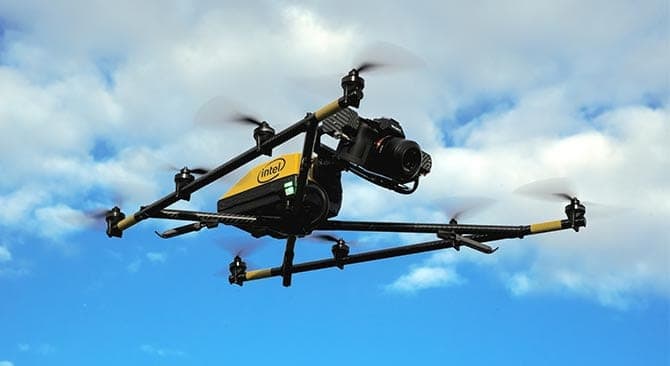 Intel has announced that it has developed a new platform to address critical steps of the unmanned aircraft systems (UAS) workflow. The Intel Insight Platform is a cloud-based data processing, analytics and reporting service that allows customers to store, share and manage the data that commercial drone systems provide, aiming to accelerate the process of generating actionable business insights. The new platform was announced during InterDrone 2017's Grand Keynote, delivered by Intel CEO Brian Krzanich.
Developed in a strategic partnership with DELAIR, this platform will address a range of commercial applications and verticals – from inspections and surveying in construction, mining, precision agriculture, oil and gas, and more. It is capable of generating 2D and 3D models, taking measurements, and making annotations for sharing across teams, as well as running advanced data analytics like change detection and plant counting. Intel believes the cloud-based platform will help drive unprecedented scale for commercial drone operations.
During his keynote, Krzanich presented Intel's vision for accelerating the path from data to insights, as well as how drone innovation will enhance this process. Intel demonstrated new technologies to advance automation with obstacle avoidance and pilot assistance function powered by Intel's RealSense technology, flight planning automation with Intel Mission Control software and automatic change detection with Intel Insight Platform.
Krzanich showed an example of an inspection mission with the Intel Falcon 8+ system. In this case, Intel RealSense technology can help reduce pilot stress on complicated jobs by creating a "buffer zone" between the drone and the object being inspected. Setting the distance for a mission helps deliver data accuracy by keeping the distance constant with consistent resolution and perspective of the photos. On the return flight, the drone remembered its path and avoided obstacles.
In an end-to-end demonstration, Krzanich demonstrated Intel Mission Control software and the Intel Insight Platform. The Mission Control software allowed Intel to fly the fully-automated mission, assisted by Intel indoor location technology for position. After the drone captured the data, Krzanich uploaded it to the Intel Insight cloud-based platform and demonstrated the feature of change detection. Once Krzanich generated the 2D model, he applied the change detection algorithm and the platform started a "tour," much like a spell check function, that cycles through each of the changes detected in order, catching small anomalies. The advantage of this tool is that it allows inspectors to focus on just the areas reported where any change has occurred, which will save time and effort.
"With Intel Insight Platform, we look forward to working with customers to manage large complex data sets and help provide them with automated analytics and uncover new insights," said Anil Nanduri, vice president of Intel's New Technology Group and general manager of Intel's UAV segment. "With the addition of Insight, Intel is leading the way in providing an end-to-end solution to our customer from drone platforms to data analytics."
One company that hopes to benefit from working with Intel to realize the new Insight Platform is Pix4D, a developer of photogrammetry solutions for drone-using businesses.
"More and more key players are using our Pix4D photogrammetry engine to build their own end-to-end solutions," commented Lorenzo Martelletti, Sales and Marketing Director of Pix4D. "We are glad to support Intel with our software and our knowledge to grow in the drone data market."