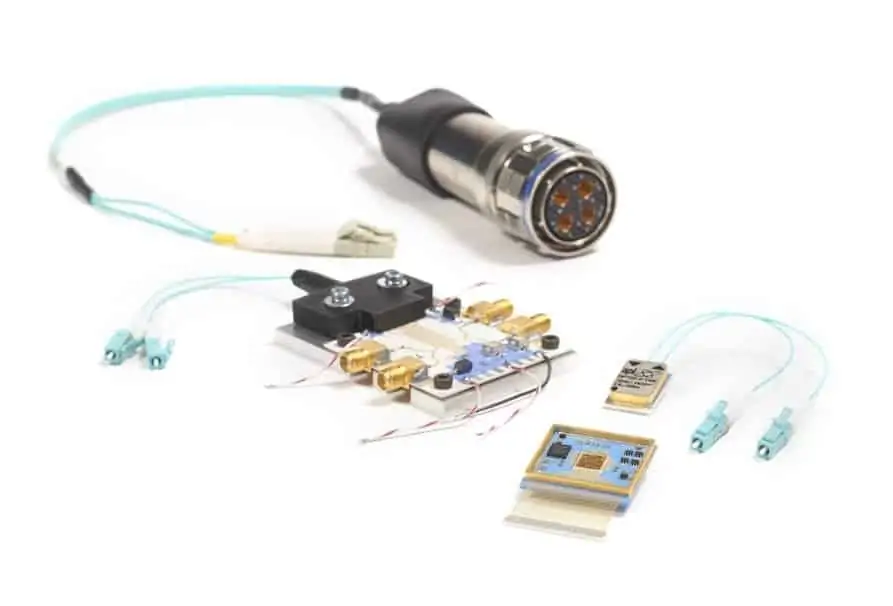 API Technologies, a provider of RF, microwave, millimeterwave, electromagnetic and security solutions, has announced that the company will debut its OPTO-FIRE optical core product platform, a high speed micro-optical transceiver designed for critical data communication systems in military, aerospace, land and sea vehicles, at DSEI 2017.
The optical core platform is a high speed micro-optical transceiver that addresses the need for a retrofit solution for system engineers looking to improve performance and reliability while also achieving reduction in size, weight and power consumption in harsh environments such as unmanned systems. The optical core offers a replacement for traditional copper cabling while delivering improved data transfer performance.
"The development of the optical core platform addresses a market need for greater efficiencies and improved data transfer performance in critical and high-rel defense systems. A distinct reduction in mass coupled with the building block style of the optical core enables us to meet a variety of packaging needs making it suitable for many aircraft and vehicle systems," said Christopher Woodend, Engineering & Technology Development Manager, API Technologies.
Leveraging API's expertise in integration and a heritage in optoelectronics, the optical core features a building block design, that can be integrated into customer specific configurations in hermetic or quasi-hermetically sealed high temperature co-fired ceramic (HTCC), low temperature co-fired ceramic (LTCC), ball grid array (BGA) or media converter style packages.
API's optical core is designed to operate over a temperature range of -50°C to +100°C, with stable performance across the full operating temperature range and proven error free performance over 1.1 km of multimode fibre. A single channel is capable of transmitting data from 20Mbps to 12.5Gbps. Dual, triple and quad channel are available in the same small footprint for ease and speed of integration. API's optical product platform is an ITAR free solution and may be produced in accordance with MIL-PRF-38534 Class H & K.
API's optoelectronic product design capabilities include laser beam profiling, optical alignment, optical test system and product design verification, RF, microwave and optical design and simulation, hermetic sealed hybrid packaging, and clean room assembly. The optical core is based upon a range of enabling technologies including optical fibre alignment, three-dimensional ceramic structure technology, chip-and-wire assembly, and hermetic packaging, and ruggedisation.