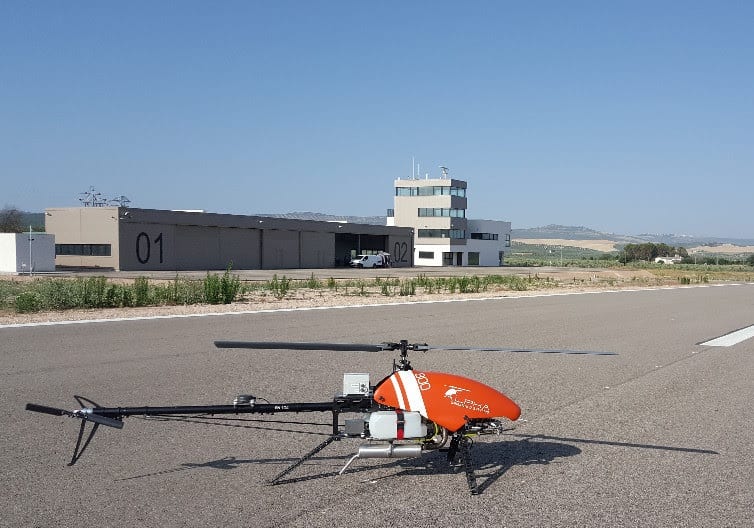 Alpha Unmanned Systems has announced that, working in conjunction with Sky Sapience and Sightec, it has used an unmanned aerial vehicle (UAV) to record a real-time video that was stabilized with high precision solely using software and without a gimbal.
Vibrations make video imagery hard to analyze. Shakiness at 1,100 meters can have greater effect than the same shakiness on the ground, and real-time imagery is of little use to detect objects on the ground if the picture quality is poor. Alpha Unmanned Systems, Sky Sapience and Sightec captured the stabilized real-time video at the ATLAS Flight Test Center in Jaen, Spain, using an ALPHA 800 UAV helicopter at 1,100 meters above ground level.
Over the course of multiple test flights conducted during two full days, the Sightec camera followed a pre-defined flight path beyond visual line of sight (BVLOS). At 1,081 meters above ground level, the camera and software stabilized the imagery in real-time and relayed this data to the ground control station and to the Visionair application.
Using the Ground Control Station, Alpha pilots defined the flight path, hover times and altitudes. Both pilots (an internal and an external) prepped the Alpha 800 for flight; one checking the mechanical features of the helicopter and the other checking the instrumentation. Once prepped and with the engine running, the Alpha 800 took off automatically.
The Alpha 800 helicopter ascended at a rate of 3m/s. At 1,081 meters AGL, the internal pilot switched to Hover Mode and began recording video.
Video content was stabilized in real time on board and then streamed to the Ground Control Station. The imagery from 1,080 meters altitude is equivalent to 100 hectares and has a resolution of 194mm per pixel. This means that a standard car is 23 pixels (4.5m). This quality enables a real-time detection and tracking of moving objects capability.
Once the video was recorded, the Alpha 800 UAV Helicopter returned to Auto Mode and headed to the next waypoint to repeat the task. This real-time, gimbal free, software-only video stabilization allows real-time detection and tracking of moving objects.
Upon completion of the mission, the UAV began its descent autonomously at 3m/s. When the Alpha 800 descended to 150m, the internal pilot started the Auto Landing Mode and the UAV helicopter landed in the exact location from which it had taken off.