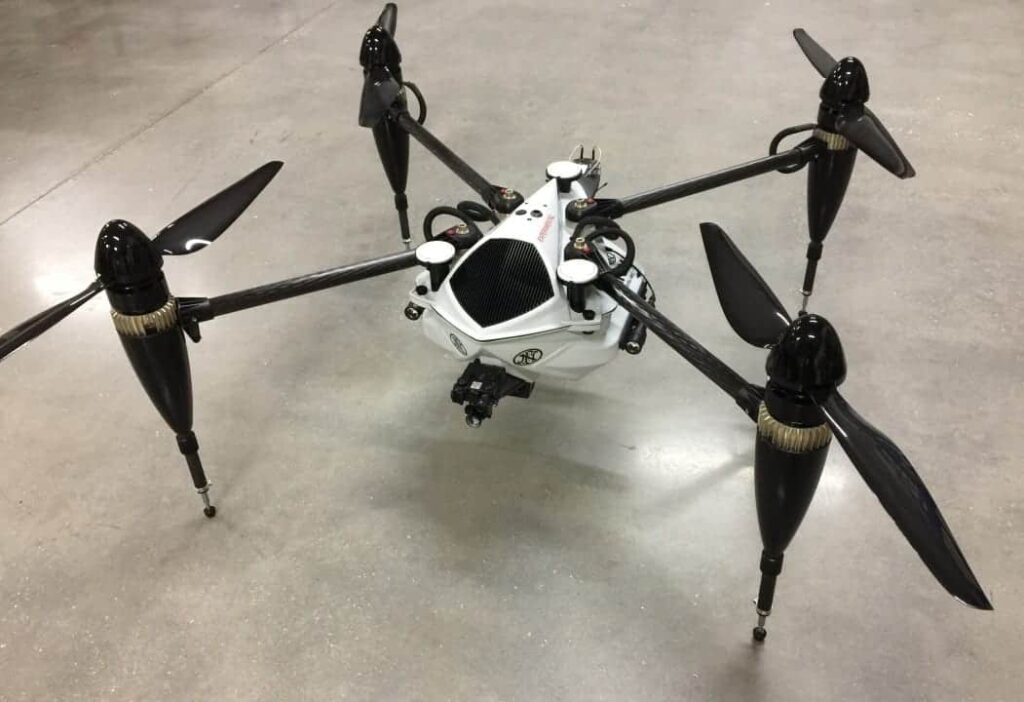 Rapid Composites has announced Bullray – a rugged, fully autonomous, waterproof and man-portable VTOL unmanned aircraft system (UAS) that is optionally configured for less-than-lethal applications. The aircraft can be configured as a tri-, quad-, hex- or X4-copter covering a wide spectrum of markets.
Bullray's rugged design is capable of performing in all weather conditions and does not require a transit case. All fuselage components are made of carbon fiber and can be rapidly customized to support demanding commercial, law enforcement and military customer needs.
The new heavy lift version of the Bullray was unveiled at the AUVSI XPONENTIAL trade show in Dallas, Texas. The aircraft features a FN 303 launcher system capable of incapacitating a suspect with one round and carries a total of 15.
Rapid's team examined the existing VTOL marketplace to identify common denominators and identify voids to develop a ready-to-go, fast deployable system that would overshadow all other bulky and time consuming processes currently plaguing other aircraft. This resulted in the development of an entirely new category of autonomous aircraft.
Significant intellectual property was identified and protected, collectively capturing Rapid's new advances in design, construction methodologies, materials and manufacturing.
"Our company recently purchased a new state-of-the-art facility with expanded molding and CNC capabilities. We work on time, on budget and within the most exacting standards of precision and performance," said Matt Dressig, Rapid's Industrial Design Manager of its UAS business segment. "My team plans to unveil a new game changing UAV/UAS every year!"
Rapid Composites selected industry partners with uniquely relevant experiences such as FN Herstal, FN America, Surefire, Steiner Optics and FLIR Systems to help form a comprehensive solution within the UAV/UAS Industry.
Features:
Amphibious water resistant IP65 VTOL design that is capable of flying in all weather conditions
Man-portable (push button folding booms and fits in the trunk of almost any vehicle)
Fully integrated, bespoke, electronically triggered FN 303 launcher system for Law Enforcement and Military applications only
Rugged MIL-STD-810G construction (no transit case required)
With an LOA of approximately 72″ the Bullray has a 10.5kg additional payload capacity when including the launcher
1 button, 15 second deployment
15-20 minutes of flight time (varies depending on payload and weather conditions)
3 integrated Picatinny rails providing easy mounting for almost any implement
Significantly lowered part count accomplished by combining more features into its uniquely molded parts
Manufactured using advanced quasi-Isotropic composite materials throughout its airframe (the entire fuselage can be molded in 5 minutes to its net shape using Rapid's automated press systems and proprietary molding techniques)
Lightweight aerodynamic fuselage (14.25kg/flying without ISR or launcher payloads)
Integrated Surefire weapon 1,200 lumens light system (optional)
Multi-spectral sensor systems available (optional)
Applications for the Bullray include law enforcement, military, security, NBC and EOD detection, laser illumination, construction and agriculture.