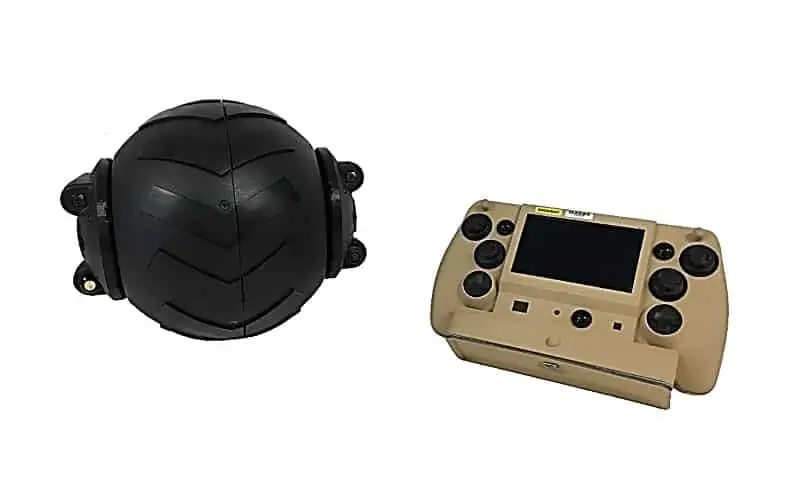 Officials from the John Hopkins University Applied Physics Lab and the US Navy have announced that the AEODRS Increment 1 and Spherical Platform for AEODRS Appliance Research (SPAAR) systems were successfully demonstrated for Joint Services EOD Action Officers in Indian Head, MD. The Advanced Explosive Ordnance Disposal Robotic System (AEODRS) is a family of interoperable EOD robotic systems. The AEODRS Increment 1 system is the first in a family of open-architecture robotic systems designed for interoperability and inter-changeability designed to enable rapid insertion of new technologies to the warfighter. The AEODRS Increment 1 system is currently in development by Northrop Grumman Remotec.
The SPAAR robotic vehicle system provides a capability to the AEODRS program developed by GuardBot with support from OpenJAUS. The SPAAR robot provides a recon capability for difficult environments such as narrow culverts, marshes, swamps, coastal areas, and small bodies of water.
GuardBot developed the SPAAR system based on its proprietary and patented spherical robotic vehicle technology. GuardBot SPAAR robots operate at up to 9 mph and have a range up to 200 meters. SPAAR's quiet electrical propulsion has an endurance of up to 19 hours. OpenJAUS provided integration of the SPAAR architecture with the AEODRS system architecture. Using OpenJAUS' commercial software development kit, interfaces to the SPAAR's internal software were developed which are compliant with the AEODRS interfaces for Mobility, Visual Sensors, Communication, Health Reporting and more. This work enabled integration and demonstration using the AEODRS Handheld Operator Control Unit (HOCU) and the Multi-Robot Operator Control Unit (MOCU) software application.
"The AEODRS program has been the culmination of over a decade of dedicated work from people throughout the DoD robotics community," said Dr. Danny Kent, President of OpenJAUS. "As a member of the JAUS working group for over 15 years, the promise of rapid capability development and fielding of interoperable systems through Modular Open Systems Architectures (MOSA) is truly a dream come true!"
"Following years of development of unmanned systems, GuardBot is proud to work with the AEODRS program for bringing our spherical amphibious SPAAR robotic vehicle system as a unique appliance platform operating with the Multi-Operator Control Unit (MOCU) command and control," said Peter Muhlrad, President of GuardBot Inc.
The SPAAR effort demonstrates the concept of an AEODRS Appliance. This concept enables the integration of unique technologies and capabilities into the AEODRS family of systems to rapidly field new technologies and capabilities. AEODRS Appliances do not require complete integration of the AEODRS architecture but ensure interoperability with program resources such as the handheld operator control unit.