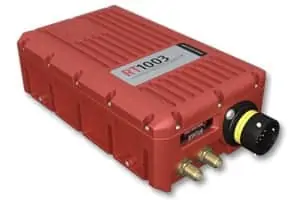 Oxford Technical Solutions (OxTS) has announced the launch of the RT1003, a compact single-box GNSS/INS system specifically developed for Advanced Driver Assistance Systems (ADAS) applications such as robotic vehicles and space-constrained target systems. The RT1003 follows the current global NCAP, NHTSA and IILS organisation roadmaps.
The RT1003 has dual GNSS receivers (GPS and GLONASS capable) for accurate, stable heading even during slow manoeuvres like during the Euro NCAP pedestrian tests. The RT1003 can achieve 2 cm RTK positional accuracy and outputs real-time data over Ethernet, CAN and serial with low latency. It comes with a driving robot interface making it ideal for use with AB Dynamics driving robots. With 10 g (optional 30 g) accelerometers, a mass of 0.435 kg, and measurements of 142 × 77 × 41 mm, it is suitable for automotive applications where space is limited.
The RT1003 shares the same connector as OxTS' RT3000 and RT4000 products, and is also fully compatible with the RT-Range system and can be connected and configured in minutes. This allows engineers to accurately generate singlepoint measurements between static and mobile targets in real-time.
Like all other RT GNSS/INS systems from OxTS, the RT1003 can be upgraded at any time and is shipped with all necessary cables, antennas and includes the NAVsuite configuration, data analysis and reporting software. The RT1003 is also export control free and can be shipped and operated worldwide without any export licences.