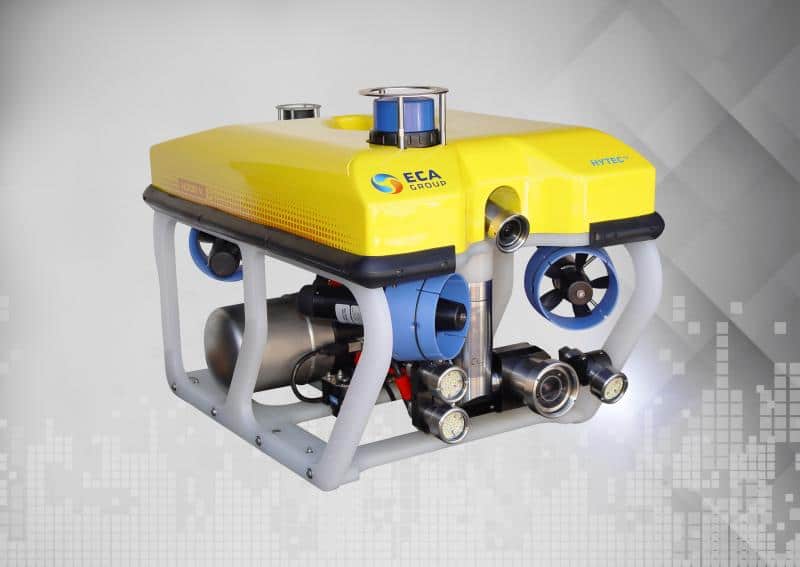 ECA Group has announced the launch of the H300-V, the company's latest Remotely Operated Vehicle (ROV). Announced at the Underwater Intervention 2017 conference, the H300-V is a new version of ECA Group's H300 dedicated to observation and inspection missions.
The H300-V ROV has been developed to meet the demanding market requirements for observation-class ROVs in harsh environments. Portable and compact, the H300-V is equipped with 4 horizontal vectored thrusters, and can reach speeds of up to 3.5 knots.
As with all of ECA Group's H-series ROVs, the H300-V is fitted with a B&W TV camera for navigation as well as a color zoom TV camera for inspection, with optical zoom mounted on a genuine pan & tilt unit. Equipped with auto heading and auto depth functions, the H300-V is able to record videos and data under strong currents at 300m depth.
The payload capabilities of the H300-V (up to 15kg) enables a wide scope of missions in many configurations, encompassing sonar, USBL, electric manipulator arms, altimeters with auto altitude function, and others.
Positioned in the ECA ROV range between the H300 MK2 (300m range) and the H800 (1000m range, 4.5 knots speed) vehicles, H300-V is already being used by several Navies and offshore service companies where accuracy of piloting and robustness are their main requirements.
Philippe Roumegue, Sales Director of ECA Group's Robotics Department, commented: "There are two main reasons for this new version of the H300 ROV.The first is the need to enhance the speed performance and all-directions operating quality of the vehicle, leading us to equip this ROV with 4 vectored thrusters. The second is the growing demand for an ECA Group ROV with the same properties as the H800 ROV but specialized for shallow waters at a maximum of 300 meters depth. The great success of our ROV H800 has convinced us to develop a compact and portable 300m version."