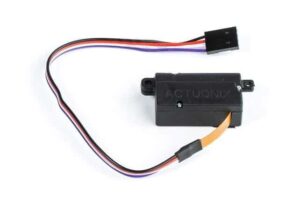 Actuonix Motion Devices has announced the launch of the newest addition to the company's PQ12 line of linear motion devices, the R series. The PQ12-R is available in three different models to meet a wide array of speed and force requirements.
The PQ12-R has been designed to push the boundaries of micro motion. The servos offer 20mm of stroke, and several gearing options. Depending on the gearing, the user can achieve a maximum force of 11 lbs and a maximum unloaded speed of 28 mm/s.
With a mass of just 15g, the PQ12-R is ideal for applications with tight space and weight requirements, such as unmanned vehicles. The PQ12 series is currently in use by industry-leading robotics companies such as Open Bionics, and has been approved for use by First Tech Challenge and is compatible with all of their allowed servo controllers.
The PQ12-R is a direct plug-and-play replacement for standard rotary RC servos. As with all Actuonix R series linear servos, the PQ12-R uses the same standard 3 wire connector with signal, ground and power. This provides accessibility for companies and DIY enthusiasts alike who control their projects via RC receivers, Arduino or VEX control boards.
"Actuonix is proud to announce the launch of our PQ12-R micro linear servos," said marketing coordinator Mike Greig. "This servo features the best combination of size, force and price that's available on the market today. The micro motion industry is poised for rapid growth over the next few years and Actuonix is committed to continue providing the best motion devices."