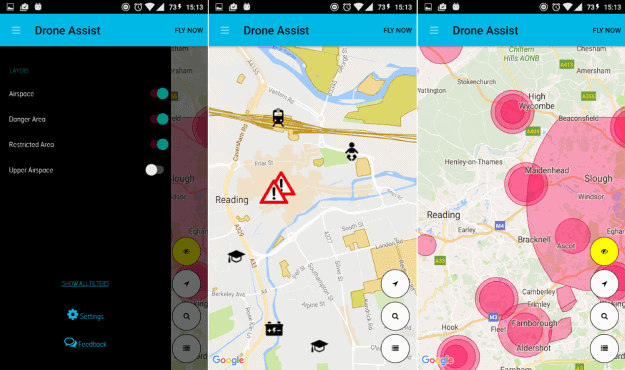 NATS and cloud technology developer Altitude Angel have announced that they have developed an app in response to the significant increase in reports of near misses between drones and commercial aircraft in the UK. Such incidents cause disruption to air traffic and risk a major incident.
Drone Assist is available for free on Android and iOS and presents drone pilots with an interactive map of areas of airspace used by commercial air traffic. Drone operators planning to fly near these areas – usually around airports and airfields – should ideally avoid them or exercise great caution. It will also contain a 'Fly Now' feature that will share the user's drone flight location with other app users, and the wider drone community, helping to reduce the risk of a drone related incident in the UK's airspace.
The app also includes the location of ground based hazards that might pose a safety or privacy risk, such as power lines, schools or sports venues.
Phil Binks, NATS drone lead, said: "With the number of drone incidents on the rise, it's clear that many people are unaware of the rules as set by the Civil Aviation Authority or their legal obligations as pilots. Drone Assist is designed to help everyone abide by the rules, identify areas of controlled and restricted airspace, therefore helping them to enjoy flying whilst ensuring their safety and the safety of other airspace users."
"We're delighted to have partnered with Altitude Angel to develop a tool that we hope will help improve drone safety in the UK and lead the way in international best practise."
Richard Parker, founder and CEO of Altitude Angel, commented: "We are delighted to be working with NATS, and are proud that the UK is taking a global lead in addressing this issue as we work to keep our skies safe for all aerial citizens. Partnerships like this are an essential first-step to bringing together drone pilots and other stakeholders, all working towards greater airspace safety, and laying the foundation for a future where drones and manned aircraft can coexist without incident."
In a recent study by the CAA, 40% of drone owners were aware of the CAA's Dronecode, but few could recall specific rules when asked. Tools like Drone Assist are designed to help, as is the new website launched by NATS and the CAA called dronesafe.uk. The site, which is easily accessible directly within the app, provides further information on the rules around drone flying in the UK, including the CAAs Drone Code and information on CAA-approved training courses.