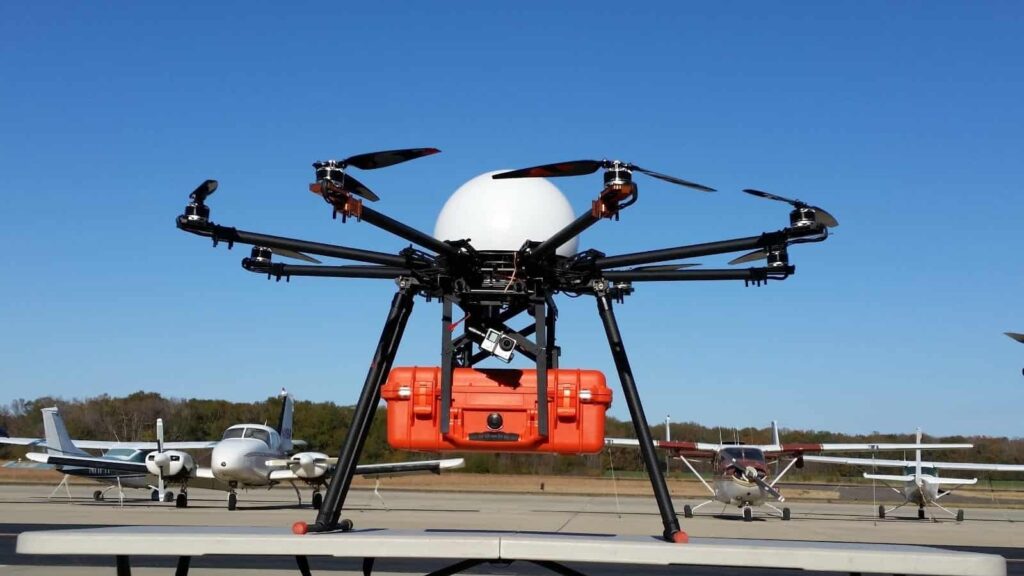 HiRO (Health Integrated Rescue Operations), a telemedical drone project, has announced that it has tested two new disaster drones, delivering telemedical packages to victims and rescue personnel in a simulated mass casualty event at John Bell Airport in Bolton, Mississippi. The technology debuted before an audience including Mississippi Governor Phil Bryant and representatives from Homeland Security, Federal Law Enforcement Agencies, and the United Nations.
HiRO (Health Integrated Rescue Operations) was developed by Italo Subbarao, DO, senior associate dean at William Carey University College of Osteopathic Medicine (WCUCOM), and Guy Paul Cooper Jr., a fourth year medical student at WCUCOM.
The concept arose when the two studied the medical response to the EF-4 tornado that struck Hattiesburg, Mississippi in February 2013. In the past two years, they have developed multiple prototypes to support rural and wilderness medical emergencies, including the two newest iterations: ambulance drones designed to support victims and rescue personnel during mass shootings, bombings, or other terrorist attacks.
"Reaching the victims is the critical challenge in these situations. As an osteopathic physician, my goal was to find ways to help save lives. A medical drone is the bridge that delivers life-saving treatment directly to the victims, giving remote physicians eyes, ears and voice to instruct anyone on site," said Dr. Subbarao, a nationally recognized expert in disaster and emergency medicine.
Two new telemedical packages were deployed during the demonstration, one for a severely injured victim and the other for a mass casualty setup capable of treating up to 100 people with significant to minor injuries. Both kits incorporate Homeland Security recommendations provided through the "Stop the Bleed" initiative.
According to student doctor Cooper, "The two highly advanced mobile telemedical kits provide immediate and secure access to a provider on the other end of the screen. The package was designed for use in the chaos and confusion where guidance must be simple, direct, and user friendly. We feel that the features in these kits empower the provider and bystander to save lives," noted Cooper.
When the critical care kit opens, the physician appears on video and can direct treatment. The kit includes Google Glass, which allow the wearer to be hands free and to move away from the drone while maintaining audio and visual contact with the physician.
Experts from Hinds Community College, in collaboration with Dr. Subbarao and Paul Cooper, designed and built both disaster drones, which are capable of carrying telemedical packages in adverse conditions.
"These drones have impressive lift and distance capability, and can be outfitted with a variety of sensors, such as infrared, to help locate victims," said Dennis Lott, director of the unmanned aerial vehicle program at Hinds Community College. "Working together, we're able to develop, test, and bring this technology to the field. It is just a matter of time before the drones are universally adopted for emergency and disaster response toolkits."
Find suppliers of Multi-Rotor Drones >