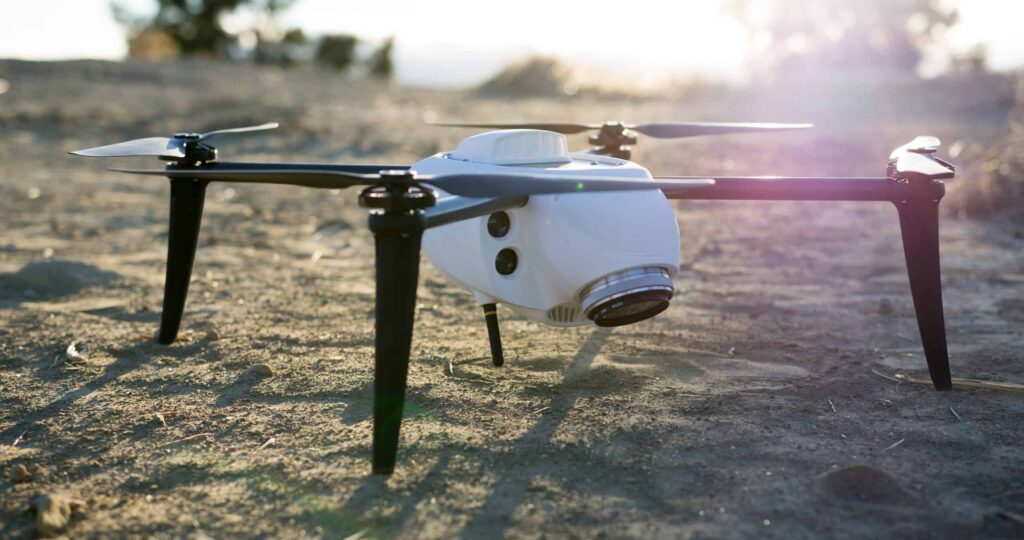 Kespry has released the new Kespry Drone 2.0, a light-weight Micro UAV designed for commercial applications.
Based on requests from commercial customers, the new Kespry Drone 2.0 now flies over 30 minutes per flight, covering up to 150 acres at a 400 foot altitude, and can operate effectively in up to 25 mph sustained winds and 35 mph wind gusts. Weighing under 2 kilograms, the Kespry Drone 2.0 benefits from a new airframe, battery, and flight system improvements.
Kespry delivers a fully-automated drone system, which takes off, flies the designated flight path, and lands, all without operator intervention or even a joystick. To help customers operating in congested areas, including applications like roof inspections for insurance claims, the new Kespry Drone 2.0 is the first automated drone system that includes an on-board LiDAR sensor that automatically detects and avoids obstacles like trees, cranes, and buildings.
The new Kespry Drone 2.0 also has a lighter-weight and customized Sony industrial camera that captures more geospatial data for detailed 3D models that assist companies in areas like mine planning, operations, inspection and safety.
"With the lighter and faster Kespry Drone 2.0, Lehigh Hanson sites will be able to map larger areas faster," said Mike Moy at Lehigh Hanson. "The expanded ground coverage and obstacle avoidance will allow the plants to more effectively manage their inventories, safely assess mine pits, and help control costs."
"We've seen increased demand from technology partners like Kespry in the drone and robotics markets," commented John Monti, director of visual imaging solutions at Sony Electronics. "The new lightweight Sony UMC-R10C is designed specifically for industrial applications leveraging low weight while maintaining high-quality image capture."
The Kespry Drone 2.0 is the only fully automated and integrated commercial drone system that companies can easily deploy at scale. The Kespry Drone, Kespry App, and Kespry Cloud reporting systems all work together, so companies can quickly collect and analyze valuable aerial intelligence.