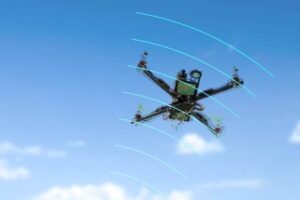 Airbus Defense and Space's Electronics and Border Security (EBS) subsidiary, and Dedrone, a developer of drone detection technology, have announced a cooperative agreement to combine their skills to protect lower airspace from small drones. The partners intend to jointly offer drone defense systems that can reliably detect and defend against the unauthorized entry of drones in critical airspaces.
"All over the world, incidents with universally available small drones have revealed a security gap with regards to major events or critical installations such as airports," said Thomas Müller, Managing Director of Airbus DS Electronics and Border Security (EBS). "By pooling the capabilities of Airbus, with our long-range radar and jamming functions, and those of Dedrone, with their market-leading multi-sensor platform, we have a wide deployment range covering both urban and rural areas."
Dedrone's CEO Jörg Lamprecht adds: "Small drones have until now conquered lower airspace as criminals discovered this technology for smuggling, espionage and terrorist attacks. We offer an effective solution for this new threat that secures lower airspace once again. Airbus' and our systems complement each other perfectly, and combine early detection of drones in near and far fields with the ability to initiate effective countermeasures automatically."
The drone defense system from Airbus and Dedrone uses different sensors – cameras, radars, microphones, and directional scanners – that combined can secure the airspace up to 10 km away. The information is merged with advanced data fusion and signal analysis technologies. The result is compared to a comprehensive database of drone patterns and signatures, along with real time analysis of the control signal. When connected to a jammer, communication between the drone and the pilot can be interrupted and navigation disturbed to repel or disable the drone. Additionally, the location of the pilot can be determined for further investigation.
Thanks to the Smart Responsive Jamming Technology developed by Airbus DS EBS, the jamming signals only block the frequencies used to operate the drone while other frequencies in the vicinity remain operational. The Counter-UAV System has been tested extensively at Airbus Defence and Space's own facility and during customer presentations in Germany and France. Depending on the configuration required, an operational system will be available from the end of 2016.
Dedrone has developed DroneTracker, a unique drone warning system consisting of optimized hardware and intelligent software. DroneTracker is already available and is being used successfully in locations such as prison and stadium installations. Mounted on facades, DroneTracker recognizes flying drones with various visual and acoustic sensors and frequency scanners. Detected signals such as noise, movement patterns, silhouette, and frequencies are processed and evaluated by Dedrone software. DroneTracker identifies drones reliably in a radius up to one kilometer and alerts security forces. Dedrone's detection solution, combined with the jamming technology from Airbus, can automatically activate defense mechanisms.