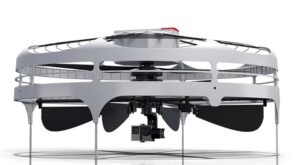 UVIONIX Aerospace, a developer of intelligent autonomous unmanned aerial vehicles (UAVs), has announced that in conjunction with partners SETI Institute, NVIDIA and Autodesk, it will be supporting researchers developing new approaches to investigating the potential threat of asteroids.
The NASA Frontier Development Lab (FDL) is bringing together talented individuals in planetary science, data analytics and deep-learning to aid in asteroid defense. UVIONIX Aerospace has agreed to provide an adaptable drone platform and technical expertise as part of the NASA FDL learning experience. Based on the company's ALPHA UAV multipurpose platform, the UVIONIX team has provided a highly customized vehicle developed to support NASA FDL workshop projects.
"We are excited to take part in the NASA FDL project and believe we can substantially contribute," said Yordan Iskrev, co-founder and CEO of UVIONIX.
Researchers believe that using advanced UAV technology could drastically speed up the process of finding, retrieving and analyzing asteroid fragments reaching the ground. "From the 8 or so large meteorite falls recovered around the world annually, only a few are tracked coming in. Using drones may help recover the smaller falls that are tracked in our camera networks," said SETI Institute meteor astronomer Peter Jenniskens, Core Mentor at FDL. "Increasing the number of tracked falls will point us to where in the asteroid belt meteorites of different type originate."
The project is hosted at the SETI Institute in Mountain View under the supervision of the FDL co-Director James Parr and SETI Institute CEO, Bill Diamond.