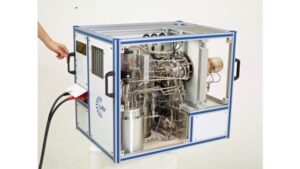 UAV Turbines, Inc. (UAVT), a developer of gas turbine technology for Unmanned Aerial Vehicles (UAVs), has announced that plans to deliver the first pre-production units of its UTP 50hp Recuperated Engine are on schedule for end-of-year 2016 or early 2017.
Fred Frigerio , Senior Vice-President commented: "A year ago we announced that UAVT would build a number of UTP50R turbine engines for integration with airframes from major producers of UAVs. Manufacturing these small, high performance engines calls for special techniques that were a critical part of our development work. We're pleased that the production of a number of identical engines is proceeding according to plan."
Peter Bale , Senior Industry Advisor further commented, "The UTP50R is just one member of the UAVT family of mini-turbine engines. UAVT has prototyped engines ranging from 5hp to 150hp for numerous applications including auxiliary power for large vehicles, but the Company's primary emphasis has been on extremely high reliability engines with features important for Group 3 and Group 4 UAVs. All engines in the UAVT family are closely similar, simple to operate, and use almost any available fuel, typically JP-8, rather than avgas. In addition, maintenance for a fleet of aircraft equipped with different engines in the UAVT family is relatively easy," Bale added. "If you've worked with one of them, you've essentially worked with all."
Frigerio added, "An important feature of all of UAVT's engines is that they start with the touch of a button, and the following steps are choreographed by the electronic brain of the control system, guided by input from sensors. The Engine-in-A-Box demonstrates these capabilities well."
UAVT will be featuring its Engine-In-Box (EIB) at the AUVSI XPONENTIAL trade show in New Orleans. The EIB includes an operating 10hp engine, filters, a 3kW generator, control system, display, and gas tank in an enclosed unit, roughly the size of a mini-refrigerator.