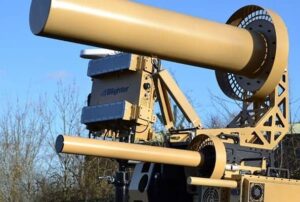 Aeryon, a manufacturer of small unmanned aerial systems (sUAS), and Liteye Systems, a manufacturer and provider of products that protect critical infrastructure, have announced the integration of the Aeryon SkyRanger into Liteye's AUDS counter-UAS platform to provide public safety, domestic security, and other agencies with the ability to deploy SkyRanger within the AUDS protection area to identify and respond to threats posed by enemy UAS.
AUDS is a second generation counter-UAS system that detects, tracks, identifies, and defeats unmanned vehicles. Developed by a partnership of companies in the UK and USA, the AUDS system is an integrated solution comprising of fielded and proven systems that protects critical infrastructure through state-of-the-art radar, precision thermal and daylight cameras, advanced video tracking, and five non-kinetic defeat capabilities that limit collateral interference. The full production system has been tested in numerous countries against Class-1 and Class-2 commercial UAS as well as homemade versions.
The FAA recently announced the execution of a Cooperative Research and Development Agreement (CRADA) with Liteye, adding AUDS into the FAA's Pathfinder Program.
The integration with the secure, all-digital network of the SkyRanger enables the AUDS operator to:
View the real-time video and telemetry feed from SkyRanger within AUDS
Export a search grid from AUDS into the SkyRanger Mission Control Software (MCS), to direct the aircraft to potential threat locations identified through the AUDS radar
Import a flight plan into AUDS from the SkyRanger, to ensure that the SkyRanger remains outside the area affected by the non-kinetic defeat capabilities
"Many of the agencies looking at deploying AUDS are already operating Aeryon UAS," said Dave Kroetsch, President and CEO, Aeryon. "The integration with AUDS illustrates Aeryon's commitment to resolve the totality of our customers' UAS needs, and reinforces the distinction between SkyRanger and other UAS."
Thomas Scott, President of Liteye, said: "Other UAS countermeasures platforms only deal with unfriendly UAS, but don't account for the operator of that UAS or other unfriendly personnel that may be present. Since AUDS is simultaneous ground and air surveillance, by deploying the SkyRanger within the AUDS platform, AUDS is able to identify the operator of the unfriendly UAS and direct other ground-based or aerial assets to address the threat."
A live demonstration of the AUDS system is due to occur in Colorado.