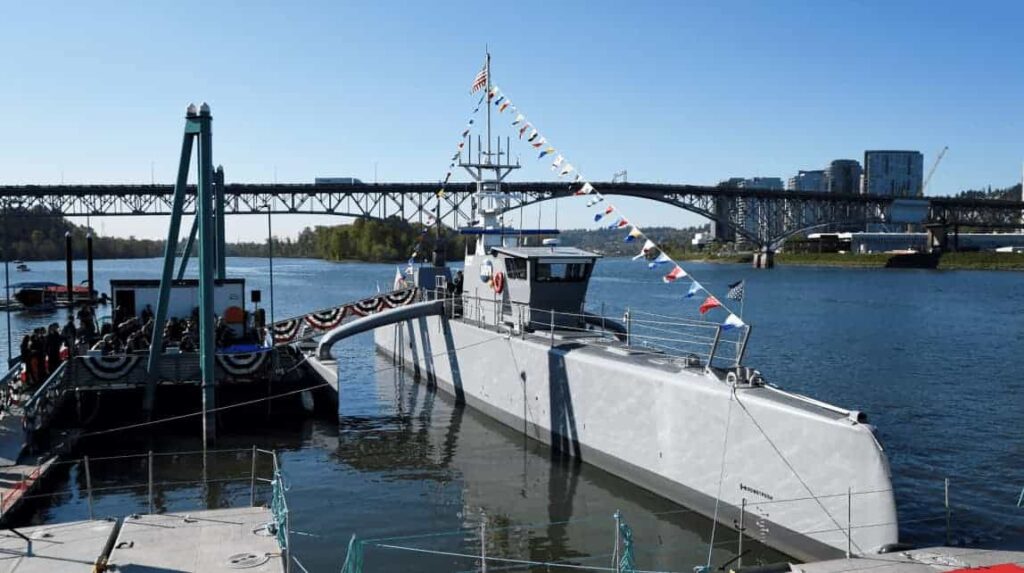 DARPA has announced that it has completed the prototype technology demonstration vessel developed and built through the Agency's Anti-Submarine Warfare (ASW) Continuous Trail Unmanned Vessel (ACTUV) program. The ship was officially christened in Portland, Oregon, at a ceremony that was attended by U.S. Deputy Secretary of Defense Robert Work and senior U.S. Navy and government officials.
The ship, named Sea Hunter, is a fully autonomous ocean-going vessel developed primarily to track diesel-electric submarines that could pose potential threats to national security. Measuring 132 feet from bow to stern and weighing approximately 145 tons with full payload, Sea Hunter is designed to operate completely unmanned on the open ocean for up to three months at a time.
Watch the ACTUV Speed and Maneuverability Tests:

Leidos – formerly known as Science Applications International Corporation (SAIC) – contracted by DARPA to build Sea Hunter, based the design of the ship's frame on a trimaran configuration, with a long, narrow body supported by two adjacent pontoons. The ship has a top speed of 27 knots (31 miles per hour) and is capable of fully functional operation in Sea State 5 (wave heights of roughly six feet and wind speeds of up to 21 knots).
Sea Hunter's onboard computer has been constructed from 31 blade servers, providing it with autonomous navigational capabilities that allow it to detect and track a target from nearly two miles away, while remaining compliant with all maritime laws and rules of safe navigation.
Scott Littlefield, DARPA program manager, commented: "What we've created together with the Navy is a truck that can carry more payload over greater distances, stay out longer, and be more capable than anything else—and do it highly autonomously because it's a big vessel and it's got that flexibility."
The vessel is now due to undergo a new stage of open-water testing to be conducted jointly with the Office of Naval Research (ONR). DARPA will collaborate with ONR to fully test the capabilities of the vessel and several innovative payloads. Pending the results of those tests, the program could transition to the U.S. Navy by 2018.