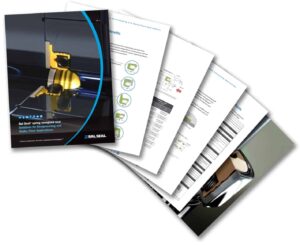 A new technical catalog published by Bal Seal Engineering, Inc. provides engineers and designers with detailed information about how spring-energized seals can be used to address reciprocating and static/face sealing challenges.
The 28-page catalog, titled "Bal Seal® spring-energized seal: Solutions for Reciprocating and Static/Face Applications," describes how the company's broad range of reciprocating and static/face Bal Seal® spring-energized seals can increase the performance, safety, and reliability of products designed for low-friction, high-pressure, and prolonged service sealing applications, among others.
The catalog presents data on the seals' properties, including pressure limits, cross section ranges, and inside diameter ranges. A detailed table describes available seal jacket materials and their characteristics, including temperature range, wear resistance, pressure/extrusion resistance, and abrasion to shaft. Several types of available energizers are illustrated, and a table provides comprehensive descriptions of the spring-energizer materials, including their advantages, limitations, and typical applications.
The catalog lists both available and suggested seal cross sections and inside diameters. Cross sections range from 0.016 to 0.500 in (0.40 to 12.70 mm), and suggested sizes generally result in optimal seal performance. Gland dimensions, recommended shaft and housing tolerances, radial clearance dimensions, and suggested surface finishes are also included. Detailed diagrams of assembly configurations are noted for both stepped and solid piston grooves to prevent deformation of the seal during installation.
Several pages of the catalog are dedicated to static/face seals. Diagrams depict both internal and external pressure, and data are provided for gland dimensions and tolerances for each seal series. A final section of the catalog highlights two seal applications and provides examples of 20 different customized seal solutions.
The new catalog can be downloaded free of charge from the company's online technical library at www.balseal.com/technical-library. Requests for free printed copies can be e-mailed to [email protected].