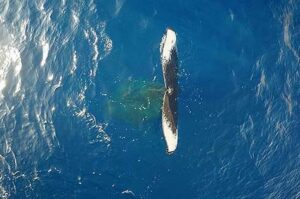 The National Oceanic and Atmospheric Administration (NOAA) has announced that it has captured video showing a humpback whale with its tail out of the water, seemingly catching the wind like a sail. The video was filmed during recent field operations conducted by the Office of National Marine Sanctuaries' Collaborative Center for Unmanned Technologies.
In the video, a humpback mother and calf are observed swimming and diving in the sanctuary off Maui's leeward coast. At one point, the mother appears to be doing a headstand and drifting with her tail out of the water.
According to scientists, tail-sailing is fairly common among southern right whales but has rarely been observed or documented among humpbacks.
"We're not entirely sure why the whales do this," said Ed Lyman, resource protection specialist for Hawaiian Islands Humpback Whale National Marine Sanctuary. "But we think this could be another way for them to rest, nurse, or just try to stay cool. More observations will be needed to confirm this theory."
The video was captured last month by a team of whale scientists and marine mammal response managers organized by the Collaborative Center for Unmanned Technologies. The scientists were trying to determine if small, remotely piloted aircraft can be used for whale research and disentanglement efforts in the sanctuary.
Mid-February is the peak of whale season in Hawaiian Islands Humpback Whale National Marine Sanctuary, where more than half of the humpback whales in the North Pacific come each year to give birth, breed and nurse their young.
According to scientists, the potential advantages of consumer-grade Unmanned Aircraft System (UAS) technology for marine mammal work are numerous. Equipped with tiny but powerful cameras, small, quiet, electric quadcopters can provide a safe, cost-effective, low-impact way to assess, document, and even collect biological samples such as whale blow.
Quadcopters can also assist in disentanglement activities led by the sanctuary, by hovering above animals in distress to allow photographic and visual evaluation of their entanglement and condition.
During the two-week study, the research team observed more than 15 humpback whales, including mothers and calves and competitive groups of males chasing after individual females. All the animals assessed during the testing appeared to be in excellent health, but that is not always the case. The sanctuary's boat-based research has shown that approximately one-third of humpback whales in Hawaii have scars indicating they were recently entangled.
Three different UAS platforms were used during testing, all consumer-grade products. More than a dozen flights were logged with the hand-launched systems. Flight operations were conducted off a private vessel in support of the sanctuary's 38-foot research vessel Koholā, which was conducting its usual boat-based monitoring nearby. Noise-level measurements of the UAS were taken at takeoff and various altitudes to assess potential incidental noise disturbance of the aircraft flying overhead the whales.
Researchers deemed the study a success, with information gained about the systems' usefulness in on-the-water research and rescue operations.
Lyman said the use of small UAS platforms likely provide a safe and productive means to obtain general health and risk assessment on the animals without a human physically approaching the animal.
"The typical boat-based close approaches needed to assess an entangled whale can be very challenging and dangerous," he said "Animals may become more evasive or aggressive."
The team cautioned that the use of "flying cameras" raises other considerations.
"As safe and productive UAS use for whale research and rescue might seem, the technology currently still pose some regulatory challenges, public-use considerations and incidental harassment potential to these animals," said Jamison Smith, NOAA Fisheries Office of Protected Resources national entanglement response coordinator.
There are strict regulations for the approach of whales and untrained public use of unmanned aerial equipment near wildlife. The UAS equipment in the Hawaii test was operated by trained professionals under approved NOAA and FAA permits, and the staging vessel was kept 100 yards away from the whales at all times.
Dr. Michael Moore, a scientist at the Woods Hole Oceanographic Institution, and leading proponent for the use of UAS platforms for whale research and response, called for continued cooperative use of the technology.
"Everyone from state and federal managers and regulators to the end users will need to continue working together to evaluate the efficacy and pursue the appropriate use of UAS platforms as extremely valuable tools," he said.
Support for the project was provided by Hawaiian Islands Humpback Whale National Marine Sanctuary, the Office of National Marine Sanctuaries Collaborative Center for Unmanned Technologies, Woods Hole Oceanographic Institution and The Sterling Group. NOAA Fisheries Office of Protected Resources' Marine Mammal Health and Stranding Response Program, the Federal Aviation Administration and the state of Hawaii Department of Land and Natural Resources oversaw the effort.